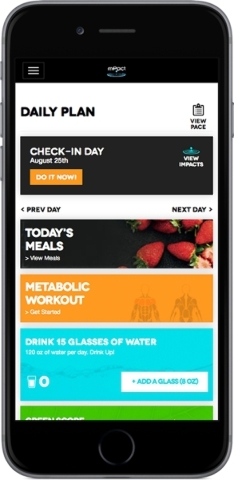 Calendars, address books, to-do lists, and favorite recipes are all available with the slide of a finger on a smartphone's touchscreen. And, as of today, there is an app that may just save your life, or at least extend it by creating a healthier lifestyle.
The Las Vegas-based mPact Corp. is introducing AIME, which stands for Artificially Intelligent Metabolic Expert the world's first virtual health advisor. AIME is like Apple's Siri but designed specifically for the healthcare industry. It's the product of a virtual design team with members on the east and west coast of the U.S. and in the UK.
In the U.S., over $60 billion is spent annually on weight loss and fitness programs, yet 73 percent of the population is still classified as clinically overweight. "The 100-year-old idea of calories burned versus calories eaten, one diet fits all approach does not work," said Darin MacDonald, CEO of mPact. "What we have developed is a science-based approach based on your personal body composition and continuous data input."
Once your basic information (resting heart rate, height, weight, gender, percentage of body fat, etc.), is uploaded, AIME will process the data into what is called a metabolic profile and then develop a personalized diet and exercise plan to help you achieve your desired weight and fitness goal. The program uses information gathered through health exams, heart rate monitors, and other data input, to constantly learn how your body reacts to exercise and calorie intake. Based upon your progress, AIME will make changes to your personal fitness program to keep you moving forward toward your goal.
Prior to the Sept. 14 market release, mPact underwent two years of controlled beta testing through diverse study groups including medical practices, wellness programs, fitness facilities, and nutrition practitioners, and has documented successful results for over 1,000 users.
The mPact program's users enjoy a variety of innovative features including:
• Daily meal plans customized to each user's personal nutrition formula and preferences. Endless choices specifically geared to each user's unique likes, dislikes, and preferences;
• More than 400 recipes, including innovative, customizable Smart Recipes that offer super-fast and easy options for meals in minutes;
• Grocery lists to print or take on the go via smartphone;
• Daily Impact Reports showing positive metabolic and overall health outcomes resulting from program compliance with suggestions for further improvement;
• Workout programs with video instruction show users how to maximize results in just 90 minutes a week;
• Interactive digital workout log shows previous workout results – and records new results;
• Graphical dashboards that show progress toward health goals.
The meal selections are not restricted to cooking at home. The program also contains the menus of over 800 restaurant chains across the country, and AIME is able to make menu suggestions that fall within your metabolic score. The program also has a database of more than 600,000 individual food items.
With the official product launch of Sept. 14, the company is using the results of the paid beta launch with more than 1,000 paying users to market the product to future user companies.
This app will not be available for download through Apple's iTunes or the Android Play Store. Instead, the product is being licensed to insurance companies, medical groups, and corporate wellness programs. The licensing cost is based on the number of participants enrolled in the program and range from $100,000 to $500,000 per year.
None has been sold yet.
However, the company is working on the development of an "athlete's" app that will be downloaded like any other smartphone app; with a projected release date sometime in the third-quarter of 2016.
The global headquarters for mPact is located here in Las Vegas. "We moved here because Nevada is much more business friendly than California," said MacDonald. "Not only are the taxes lower, the people are very friendly. Within the first six months of arriving in Las Vegas, we had more business contacts than we had after five years in California."
MacDonald, the visionary behind mPact, is not only a software engineer but has enjoyed tremendous personal success as a collegiate athlete and competitive bodybuilder, winning the 2002 America's Natural Body Building Championship. He is a certified sports nutrition advisor and expert on body chemistry, sports nutrition and supplementation. MacDonald and his wife have devoted more than 10 years in research, analysis, and technical design to bring mPact to the market.
They bootstrapped the company's initial costs and have recently been able to raise private investor money through contacts they have made. More information on the company and AIME can be found at http://mpact.io/.