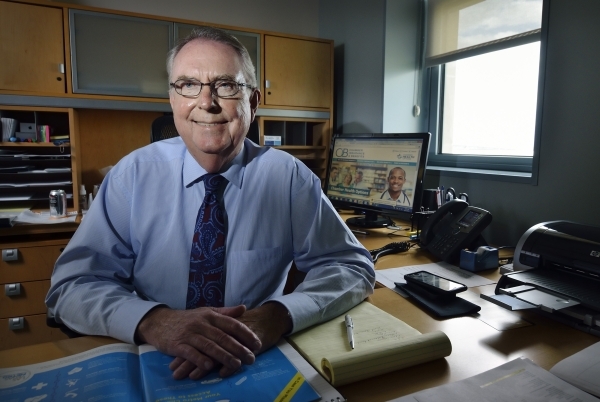 The Affordable Care Act altered the face of health care, and additional changes are right around the corner.
It meant that businesses with more than 50 full-time employees were required to offer health care plans to their employees as of Jan. 1, 2015. More changes are coming Jan. 1, including a major rate hike for some policyholders.
The Las Vegas Metro Chamber has sought to be on the forefront and offer its members, which include approximately 4,000 to date, the latest in health care options.
Bill Wright, president of Chamber Insurance & Benefits and Chamber Health Options, said the organization formerly offered several options for preferred provider organization, health maintenance organization and point of service plans.
The organization relied on the input of lawmakers, as well as insurance agents and brokers on how to best make the transition to a new health care system.
"We aggressively pursued a plan that allowed us to do the right thing the first time," he said. "We don't have the luxury to make a mistake."
New health care offerings from the chamber, according to Wright, include Chamber Health Options, a private insurance exchange, which offers a wide range of plans to individuals and businesses that have up to 50 employees.
"Consumers have the ability to shop online and compare various plan options and pricing," he said. "We offer plans from Prominence, Anthem Blue Cross, Nevada Health Co-op, Aetna, Humana and Health Plan of Nevada. We have the ability to link with the Federal Marketplace so our customer can receive a premium subsidy if they qualify."
The chamber's partnership with Prominence Health Plan in Reno, formerly known as St. Mary's Health Plans, offers PPO and HMO products, which are also for businesses with no more than 50 employees.
"These plans look very much like our old plans and offer a fully insured option," he said. "Also, as with our former plans, there are various options for deductible and co-pays."
Wright said the organization is most excited about offering Health to You, a subscription-based primary care clinic, to its members.
"If you have a cold and you can't get into see your physician, you have guaranteed access to their clinic within 24 hours," he said. "Instead of going to a doctor, pharmacy and lab, a $75 charge includes your examination, medications and blood work."
The service does not treat job-related illnesses or injuries or include specialty health care such as cardiology, dermatology, neurology or obstetrics and gynecology.
"If a patient is found to need those services, they will receive a referral, just as your current primary care model works," Wright said.
The Health to You model was introduced by Nashville, Tenn.-based Hospital Corporation of America and was originally intended only for its employees and their dependents.
Locally, HCA owns MountainView Hospital, Southern Hills Hospital and Medical Center, and Sunrise Medical Center, all of which operate Health to You clinics.
Aside from the Las Vegas Metro Chamber, MGM Resorts International also offers its employees access to Health to You clinics, according to Jennifer McDonnell, vice president for marketing and communications at MountainView Hospital.
"HCA has offered this in its other markets," she said. "It's another way for employers to become employers of choice in the community."
Wright said Health to You clinics help businesses maintain their work flow.
"The idea is a one stop shop and it's beneficial to the employer because it gets people back to work right away," he said. "It also solves the problem of expanding access to primary care physicians in Nevada and it does so efficiently and inexpensively."
Health to You offers a telemedicine service where doctors are available 24 hours a day via Skype or telephone.
"Businesses want to keep their people close by, at work and well cared for and it's important to them to stay at work," Wright said. "We've started out with a known product and customized it instead of reinventing the wheel."
The chamber also offers Chamber Group Captive for businesses with more than 40 employees to pool their risk as well as receive dividends based on their claims experience.
"This type of plan allows the business to customize the plans it offers to employees and can duplicate an existing plan if the employer wishes," he said.
This type of program will be extremely competitive in 2016 when the definition of small group insurance changes to 2-99, by allowing those employers affected by the ACA to have more plan and pricing options, he said. Premiums and losses for this type of plan are very predictable. The employer can take some responsibility for paying for a small portion of the claims.
Groups with 10 employees or more can take advantage of Anthem Balanced Funding, which offers a wide range of HMO and PPO plans.
Dental, vision, life, metal gap and short-term medical plans can also be purchased through the chamber.
Open enrollment for 2016 for the chamber's health plans begins in October. According to Wright, in 2012, the chamber had approximately 2,500 employer groups with 23,000 employees enrolled in its Chamber Health Plan.
"As members become more educated in their options, I hope they'll take advantage," Wright said.
For almost the past two years, under the Affordable Care Act, insurers cannot deny coverage or adjust their premiums based on pre-existing conditions.
But on Jan. 1, businesses with fewer than 100 full-time employees will be subject to Adjusted Community Rating, which says that the only three criteria insurance companies can underwrite are age, location and whether they're a smoker or not.
"Up until 2016, insurance companies have been able to underwrite based on the risk being assumed, however, beginning Jan. 1, they fall into same risk pool as those subjected to the Adjusted Community Rating and they have to accept everybody," Wright said. "Now you have younger and healthier people paying for older sicker people."
Wright added that 50 percent of Las Vegas Metro Chamber members received rate increases of 50 percent or more this year and now companies with between 50 and 99 employees will see the same kind of jolt in 2016.
"All of a sudden there's a sticker shock as copays and deductibles go up," he said. "Those companies who have a lot of older individuals as employees will see their rates remain stable as those who have a younger workforce will see their rates increase dramatically."
For Wright, who has spent the past 40 years in the insurance industry, continuing to explore new health care options for chamber members will be crucial for years to come.
"We're trying to be innovative and find new ways that are cost saving but still provide a high level of care," he said. "It's a hard job but we're using the resources and education we have."