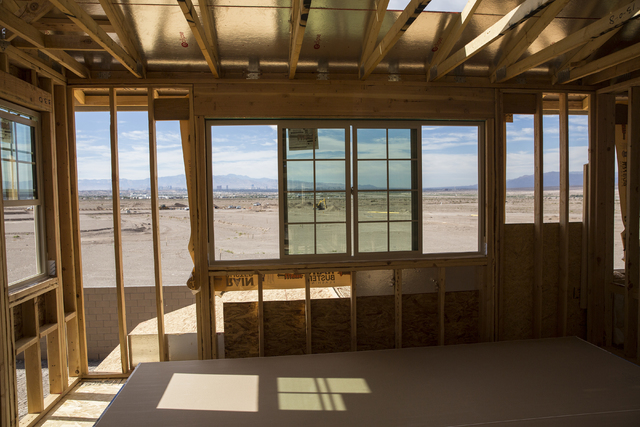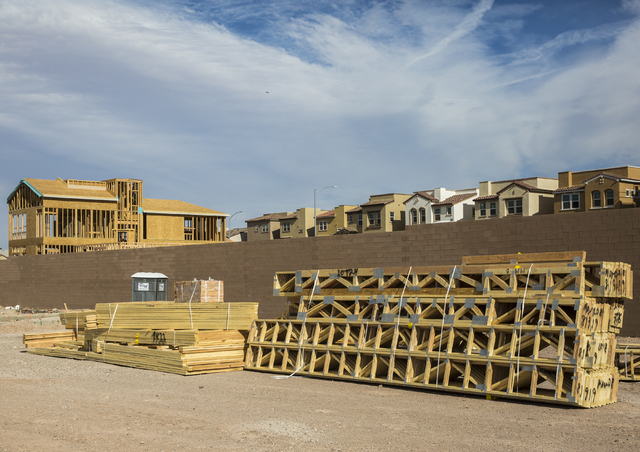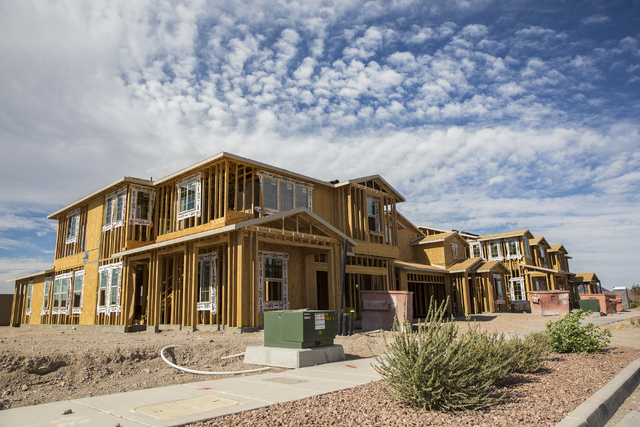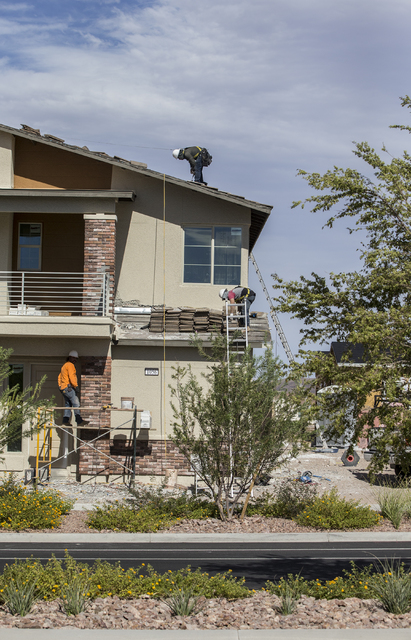 Driving around Henderson watching homes under construction one can see plenty of evidence of the city's home building recovery.
Home building tanked after the collapse of the economy and onset of the Great Recession nearly a decade ago.
The numbers haven't recovered to where they were during the height of the market in 2006, but builders and analysts say the current consistent growth keeps a housing bubble from reoccurring. Construction closely matches actual demand now.
Builders obtained 1,553 building permits through the end of August, according to Dennis Smith, president of Home Builders Research, so Henderson could approach 2,000 permits by the end of the year. In 2013, builders obtained 1,087 permits, and that jumped to 1,187 in 2014 and 1,679 in 2015, Smith said.
"Henderson is Henderson," Smith said of the housing rebound. "This is the best year since the Great Recession. Inspirada has evolved where it sat almost dormant during the recession, and the builders with the cooperation of the city of Henderson have turned it into a major master plan. They have come around, which explains the increasing number of permits."
Inspirada has led the way with 435 permits through the end of August compared to 204 in all of 2014, Smith said. Cadence is next with 280 permits compared to 155 permits in 2015, he said.
Tuscany recorded 101 permits, and 30 have been pulled in Lake Las Vegas through the end of August. Only 12 permits were pulled in Lake Las Vegas in 2014.
These master-planned communities are not the only thing attracting builders, who are also building on in-fill lots they bought in the past couple of years, Smith said. The luxury market is doing well in high-end communities such as MacDonald Ranch, Dragon Ridge and Seven Hills, he said. Multi-million dollar lots are selling in the hillside development Ascaya.
"Henderson has done a very good job of moving forward out of the recession," Smith said.
Inspirada has led the way and typified the recovery of the housing market after emerging from bankruptcy in the aftermath of the recession. The 1,100-acre master-planned community has been taken over by its builders — KB Home, Toll Brothers, Pardee and Beazer Homes. KB sold off a portion of the development to Century Communities, said Jim Rizzi, director of development with Pardee Homes and project manager for Inspirada.
"I feel like Inspirada is back," Rizzi said. "Most of the builders as a group are forecasting increases in sales. The reason sales are up is we have followed through on the promise when the builders took over. The original residents were promised parks, and that was important to them. We immediately out of the gate build three city parks in a short period of time."
More than 2,000 of Inspirada's 8,500 homes are entitled to be built. When it launched prior to the recession, Inspirada was touted as a walkable community with smaller home sites, but the builders have now integrated some larger home sites while retaining walkability through extensive trails, Rizzi said. Its first elementary school is expected to open in 2018.
The average sales price of new homes in Inspirada in 2016 has been $350,084, Smith said. Lake Las Vegas leads with a, average price of $704,278. Tuscany is at $342,159 and Cadence is at $328,287, he said.
The newcomer to the development scene in Henderson is Cadence, a project of the Landwell Co., the real estate arm of Basic Management. Prior to the recession, Landwell had planned to sell its 2,200 acres in east Henderson to Centex, but that deal fell though.
Landwell broke ground in 2013 and started selling homes in December 2014. Today, it has made 368 sales with 207 families calling Cadence home, according to Cadence Vice President of Marketing Cheryl Persinger.
Cadence has entitlements for 13,200 homes — single-family attached and detached and some apartments and condos. The build-out is schedulued for 10 to 15 years.
"The increased sales say to us that Henderson is definitely seeing a resurgence in growth and in particular the east side of Henderson that's being completely revitalized with downtown Water Street, Cadence and Lake Las Vegas," Persinger said. "We're in the first phase now and folks like Henderson because it's safe, and there are a lot of parks and other amenities. On the east side of Henderson with growth and resurgence, there's so much available in the immediate area that they don't have to travel to get there."
Cadence is adding commercial development over the next two years, including a grocery store by early 2018. Home prices range from the mid-$200,000s to the mid-$400,000s.
Builders are constructing bigger homes in 2016 than they were in 2013, with an average of 2,430 square feet, 64 square feet more than three years earlier, Henderson records show.
The largest home built in 2013 was 23,376 square feet. It topped 23,000 square feet in MacDonald Highlands in 2016.
"Consumers are buying more of the larger homes than the entry-level homes," said Henderson Assistant City Manager Greg Blackburn.
Applied Analysis Principal Brian Gordon said Henderson continues to command a premium price relative to the rest of the Southern Nevada. The latest median home price in Henderson was $250,000 compared to the overall market's value of $200,970. New-construction home prices are approaching $350,000 in Henderson, also reflecting a premium to the broader market, he said.