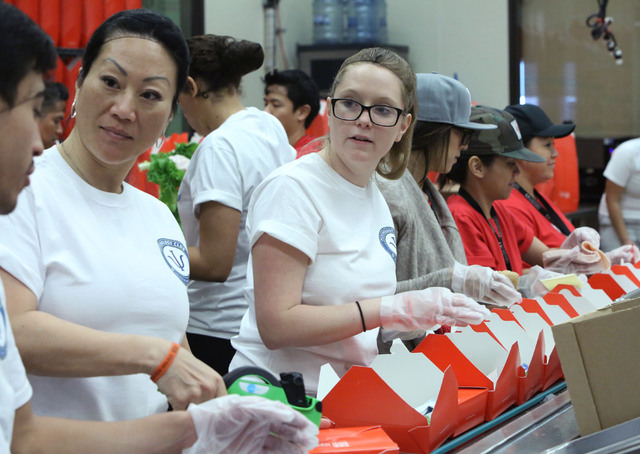 Three Square Food Bank recently received a grant from Microsoft Corp. through the company's Technology for Good program. The grant is an in-kind gift of software and product licensing equivalent to $500,000, which will be implemented in three phases throughout the first half of 2015.
Three Square will use the Microsoft products to create better processes and streamline the warehouse inventory procedure to serve the community more effectively, thereby reducing operating expenses and freeing up resources for food operations.
With Three Square's efficiencies translating one dollar into three meals, by saving $500,000 on operational costs, approximately 1.5 million meals can be provided to the more than 315,000 food-insecure people living in Southern Nevada.
By providing this grant, Microsoft not only helps Three Square work toward its mission, but also benefits the 270 agency partners acting as the critical link between the food supplies in Three Square's warehouses and the people in Southern Nevada who are struggling with hunger.
Nevada State Bank donates to vets memorial
In honor of the Las Vegas Veterans Memorial 55th anniversary, Nevada State Bank recently donated $30,800 to underwrite 55 memorial bricks. Each brick will be inscribed with the name of a service member from Nevada who served in conflicts in Iraq or Afghanistan, and who died since Sept. 11, 2001.
"Nevada State Bank is proud to salute those who have sacrificed and given of themselves for freedom and justice across the globe," said Dallas Haun, CEO of Nevada State Bank. The bank is a supporter of charities and community causes, particularly benefiting youths, education and military service members.
Located in downtown Las Vegas, The Las Vegas Veterans Memorial aims to create a world-class monument that provides a powerful and lasting experience for the visitor, while evoking a deep sense of gratitude and respect for veterans and their families.
Nathan Adelson Hospice to hold butterfly release
Nathan Adelson Hospice Foundation will host the 12th annual John Anderson 'Celebration of Life' Live Butterfly Release, Saturday, April 25, at the UNLV Alumni Park Amphitheater at 2 p.m.
Named after a 23-year Nathan Adelson Hospice employee who passed away, the event brings hundreds of friends and families together to release nearly 350 live butterflies in memory of loved ones who have died.
"The live butterfly release is a touching effort that gives community members a chance to remember loved ones who have passed," said Carole Fisher, Nathan Adelson Hospice president and CEO. "Butterflies are a beautiful symbol of transition and can provide comfort and hope to those that have experienced the loss of a spouse, parent, child, friend or any loved one. An important part of the Nathan Adelson Hospice philosophy is providing emotional and spiritual care to patients and families."
Butterflies can be reserved in advance for $25 by contacting Stephanie Forbes at 702-938-3910 or sforbes@nah.org.
The event is open to the public. Free parking will be available outside the UNLV Student Union on Maryland Parkway and Harmon Avenue.
For more information, visit www.nah.org.
After-School All-Stars
Las Vegas receives grant
After-School All-Stars Las Vegas received a $50,000 grant from the National After-School All-Stars organization. The grant will be used to support the free, comprehensive after-school academic and enrichment programs organized by ASAS for more than 5,500 at-risk students in 13 Clark County School District elementary and middle schools.
"For all students, especially those who are unsupervised, the hours immediately following school are critical," said Ranna Daud, After-School All-Stars Las Vegas executive director. "We are very grateful to be able to put the funds from our national organization to use here in Clark County. These donations help ensure that students are safe as they learn and grow through positive and constructive activities each day after school."
In addition to the Las Vegas chapter, the National After-School All-Stars organization provides support and guidance to 15 chapters across the United States serving more than 75,000 underprivileged youth.
Counseling center celebrates 25 years
Community Counseling Center of Southern Nevada will celebrate its 25th anniversary with a special open house at its location at 714 E. Sahara Ave., April 1 at 4 p.m.
Since 1990, the organization has been providing support and treatment to hundreds of under and uninsured individuals suffering from mental illness, substance abuse, HIV/AIDS and co-occurring disorders.
The event is free and open to the public and will offer appetizers for guests, tours of the facility and a raffle. In addition to special guest and former mayor Oscar Goodman who will recognize the organization's service to individuals in Southern Nevada.
At tbe event, Community Counseling Center will unveil a donor wall which will acknowledge numerous individuals and businesses that have contributed to the organization's success throughout the years. The center recently launched its 25 for 25 donation program, which accepts contributions of $25, $250 or $2,500 in honor of the nonprofit's anniversary. Individuals or businesses who give $250 to $2,500 will be added to the donor wall.
For more information, visit www.cccofsn.org.
— Compiled by Chanelle Hayes