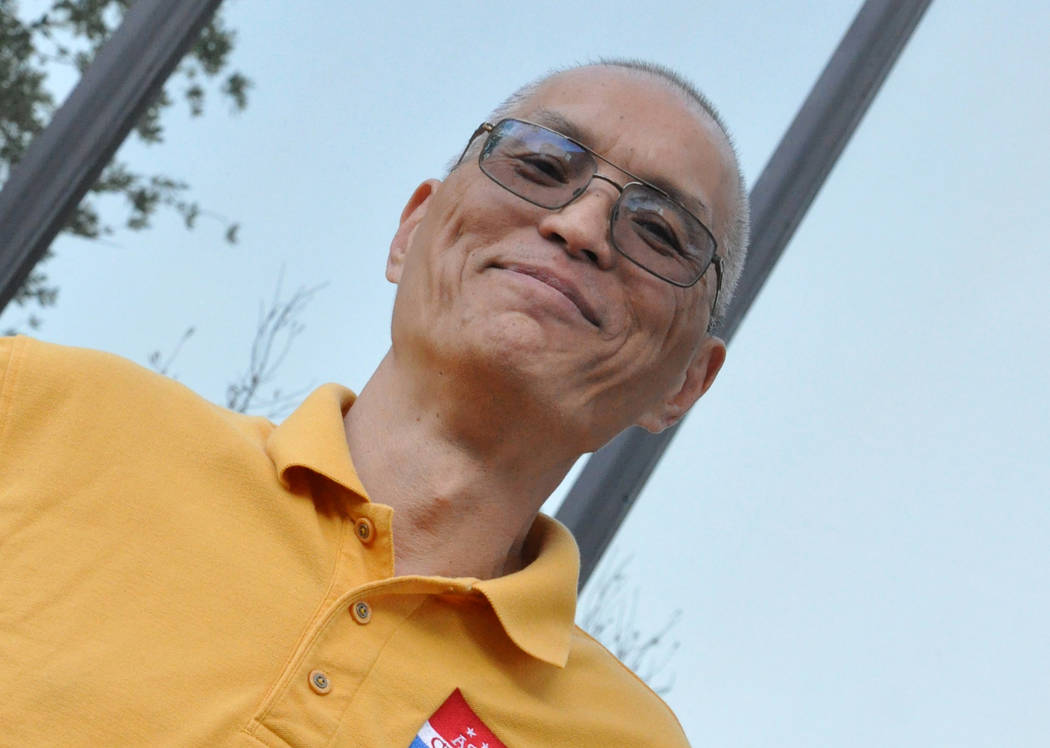 Cavin Fung is the founder of the nonprofit community resource group Asian Culture Alliance. The organization, formed in 2014, officially opens its new Asian Culture Center on April 13 at 333 S. Sixth St. in conjunction with the launch of the social media network platform for Asian Culture TV.
The former center on South Valley View Boulevard had been open only two months when it was gutted by fire in October. A wide range of educational classes is offered at the new center (which has already had a soft opening), including tai chi, calligraphy, photography, English, Chinese painting, ping pong basics, yoga and Latin dance.
Fung, a native of Taiwan, relocated to Los Angeles at age 12 and has lived his adult life in Las Vegas. He is the owner of F10 Inspection Services, which provides home inspections for prospective buyers.
Q: What is the focus of the Asian Culture Alliance?
A: When you need help, we do. A lot of people need help of all kinds. A lot of times, all you need to do is give the right advice and the problem will be solved.
There is no membership fee. All of our instructors are volunteers. We are trying to set up a model for everyone to see. That is what I have been doing for the past three years, and it is working.
Our job is to get people to share with others. There are people in all walks of life — they're looking for something, but you are not going to pay whatever tuition to go and find out what you are getting into. This is like a free buffet — try it out. Have a taste test every day, seven days a week, at your convenience.
We have a lot of retirees in town. They are financially fine, but they don't have a platform for when someone needs them. They have great skills of many sorts that they can share. We can provide this platform for them. That is why I say, "Come on, don't just stay at home and wait to die. Come out and have a second spring to share with everybody."
Q: What about people who are still in the workforce?
A: That is the second type of person, the one that needs a platform. They still need to make a living. Maybe their dream is to be a dance instructor and they wish they had a classroom. People come in and try it out, they love you, they're willing to pay for your special classes. Private classes. So we encourage that.
Q: What led you to found the Asian Culture Alliance?
A: It is very interesting how I founded it. My son had just turned 6 years old. I had him study the Confucius Analects as a 3-year-old. I wish it was earlier. When he went to first grade, I could see the benefits that he received. I said, "Do you know what? I have found it. I have got to have this for all of the kids." That is how we actually started the whole thing.
Asians have been here for 150 years already. Why are kids not interested (in Asian cultures)? I have five kids — the oldest four are daughters. Why were they not interested in that? Because they were not educated. No one talked about it. They did not learn what the culture is about. Culture, education, art. Our ultimate goal is to give all the children some kind of ethics, education. It is a rule for life.
Q: And how do you believe that end is achieved?
A: It is very simple. It is the transmitting of an idea. The most important thing, I have been a father for many years, and I have learned from my mistakes.
If the kids are taught right, they benefit so much, and they have so much confidence. Nothing beats that. The world out there is very, very, competitive, so you've got to get your kids ready. They've got to be able to take on the world. We know that, but they do not know that.
Q: You have said you strive to make this a very inclusive organization.
A: I am Chinese-American. A lot of my friends who are Chinese started coming. And then we had Korean, Vietnamese, all of the rest.
At first, they looked at it and said, "No, it is a Chinese center." I said, "Look, when you come, it is not just a Chinese center."
We are all-inclusive. We have to be. I do not want someone to feel like an outsider. I grew up as an outsider. It was vicious. When I was born (in Taiwan), they said you were an outsider because my father was from China. When I came to America, now they called me an outsider. "You are from Taiwan? Where? China, oh, OK, you are from China." When I go back to Taiwan or China, they say, "Oh, you are an outsider. You are an American now."
Q: This alliance seems to be a personal passion for you. Beyond it, what activities do you enjoy?
A: I am a movie buff. I watch a lot of movies. But I love to talk to people about ideas. Because we are all going to kick the bucket. So I talk to people as though I do not have tomorrow. Sadly, I see 60-year-olds who are lost puppies. A lot of 20-, 30-, 40-year-olds who are lost puppies. That is the problem. If I can be of any help, I love to do so.