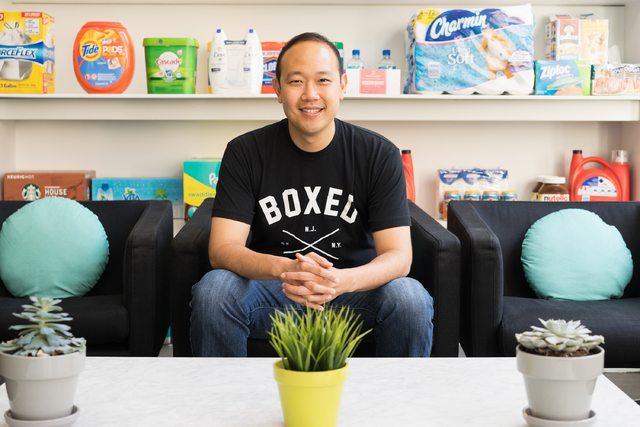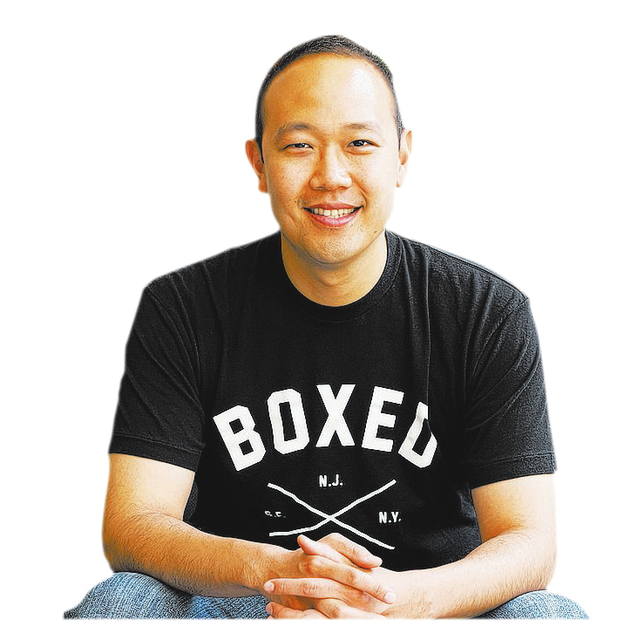 Chieh Huang is the co-founder and CEO of Boxed Wholesale. The New York-based fulfillment company ships wholesale purchases to homes and businesses and has raised $150 million in funding. Boxed has more than 100 employees and opened a distribution center in North Las Vegas in 2013.
Chieh is formerly the CEO of Astro Ape, one of the first mobile social gaming studios. He graduated with an economics degree from John Hopkins University in Baltimore and a law degree from Fordham University School of Law in New York.
Q: Tell us how you came to take the leap into entrepreneurship.
A:I think it was the realization I wasn't enjoying myself in my day job and that a lot of change was going to happen with human behavior because of technology. In the early 2000s there was the initial boom where a lot of the story and a lot of the potential pervaded the conversation. But when it came down to it, the rubber didn't hit the road until this past decade. I saw that from my vantage point and just thought, "So much opportunity, so much change." If there was ever a time that I was going to capitalize on it, it better be now while that change was going on.
Q: What attracted you to the Las Vegas Valley as a location for a distribution center?
A: Vegas was our second facility in the growth of our company. It is location and people. When you look at the distribution sites populating the areas outside the Strip of Vegas, it has created an atmosphere, a concentration of skilled folks that can really help distribution facilities. Location-wise, also. It is a prime location where you can get goods to folks all over the West Coast in a short amount of time. (Las Vegas) has become the ultimate melting pot. Folks all over the country, all over the world, but more importantly, all walks of life. It really is a place where you can find individuals with select talent that sometimes would be hard to find if this was not such a melting pot. That diversity of thought and diversity of life experience is really important.
Q: What do you expect to see from the region economically in the coming years as it relates to the goods fulfillment business?
A:From our vantage point, when you look at commercial real estate — fulfillment and distribution centers — it is on fire. When we were first here three years ago, you could practically give space away. There were so many vacancies in Henderson and Las Vegas. Fast-forward to today — just to get our facility — we were third on the waiting list. It was a miracle we ended up getting one and now moved to a much larger one today. It's absolutely booming. I am super bullish on the commercial real estate market. Thinking about how people are going to be buying goods in the future — and even now — they are buying it online. The fulfillment centers need to be strategically placed all over the country and Vegas has shown it is a very strategic place to put one.
Q: Will online shopping fundamentally change the way retail commerce is conducted, or is it going to be a significant piece in a basically traditional model?
A: The fun part about what we are doing today is that nobody has figured it out. There will be this intersection of store and physical locations with pure play-online retailers. So if you just have a store, it is not going to work well for you, and I think in the future — if you just have a website — you will also be disadvantaged by the folks who have stores and are closer to the customer. So it is this formula that is currently being experimented with and it is currently being written. And nobody has got it right just yet. But someone will get it right within this next decade.
Q: In 2015, Boxed committed to fund the college tuition of the children of its employees. Why did you decide to offer that benefit?
A:If you rewind 40 to 50 years, no one would bat an eye (over what we are doing) because that was standard operating procedure for companies. When my parents worked at a company before they retired, they were there for a long time and gave their best years to the company. When the company called on them, they sacrificed their time, time with their family, sometimes even personal health to be there for the company. But when there were moments where my family needed the company, they also stepped up to help my parents. That has largely gone away in our society today. It is funny that it is now revolutionary, but it has actually gone back to what loyalty and the pact between employer and employee was actually built upon.
Q: Why do you believe that sense of loyalty to employees has largely gone away?
A: There might have been an extreme view toward constantly showing more and more profits over time. Don't get me wrong, we are not a charity. We need to show profits, but you can do so in a manner that doesn't squeeze every last dime, penny and the life force out of the people who have trusted you to guide them to a good career. To have a culture where management is in it with them and wants to help them is really important. Can we succeed if we didn't do that? Perhaps. But we have chosen a path we want to succeed in, if we are to succeed. That is our philosophy. You could say that's not the right philosophy, and I accept that, but as long as I am at the helm of the company and it is within our control, it is something that I believe in and will continue to do.