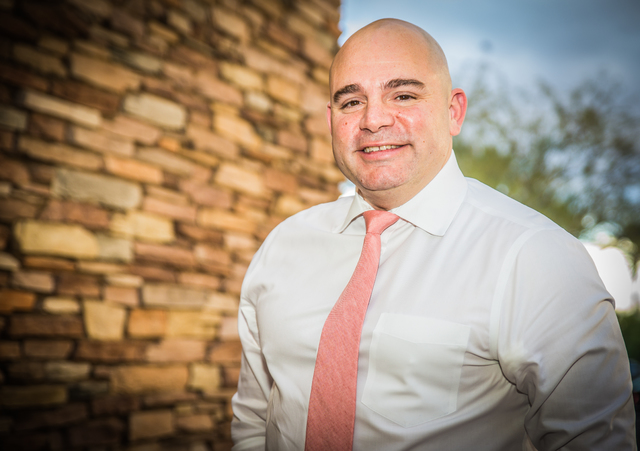 Las Vegas corporate broker/owner of Summerlin-based Urban Nest Realty David J. Tina is now at the helm of the central organization for Realtors in the valley: the Greater Las Vegas Association of Realtors.
Tina assumed his post as 2017 president of GLVAR on Jan. 1.
Tina brings several years of industry experience to the table, with his career spanning about 15 years in the local market, spending the last few years working side by side with his father David R. Tina.
The duo worked together at Realty ONE Group in 2008, David J. Tina was assistant broker to his father. The father-and-son team later opened Urban Nest in 2012.
David J. Tina received his undergraduate degree from the University of Nevada, Las Vegas in education and kinesiology in the late 1990s and taught for a brief time for the Clark County School District. He is from Medford, New York, and came to the valley in 1995. His father followed two years later.
Q: What is the current membership at GLVAR and the past comparison?
A: We were up to 19,000 in 2006. Today, there are about 13,000 members.
Q: Membership is growing?
A: We induct 150 new members every month; some months it's 300.
Q: What are some plans for 2017 at GLVAR?
A: No. 1, is there's going to be a ton of time dedicated to our new building that is opening on South Rainbow Boulevard, near the 215 Beltway. We did a study. I don't know the exact number, but I think there's like 70 (percent) to 75 percent of our membership is within 5 miles of that location.
Q: What do you hope your leadership will bring to GLVAR in 2017?
A: If I had one wish for our association, it would be that no matter what the situation was … even if you didn't have to join us to get the MLS (people will think) I must be a part of this association, because (it) provides so much value. If I'm not a part of this association, I'm missing out a ton.
Personally, (I want to) leave it better than I found it. You can't do a lot in one year.
Then the board of directors can say in 2018 they didn't like it. Just like with the presidency now — new regime comes in and they can change everything, to a degree. I just want to move the needle a little bit, always be improving. I just want to leave it better than I found it.
Q: What could we see with the potential for rising interest rates?
A: (When) I bought a house here in 1995, my interest rate was 8 percent, and I was OK with that. If my interest rate is at 3.75, even if it goes up to 5 percent, how much (I) can afford might go down a little bit.
But if you're buying your house for your family, and you're not focused on how much money I am going to make on the house — I'm buying for my family.
Q: How has the market been recovering?
A: We have not recovered as quickly as the rest of the country. We haven't even hit our 2007 highs. We had an average price of $315,000. In November, it was $240,000. We still have space to even get there.
Q: Does that make Las Vegas a good buy?
A: There is no better deal, and the quality of life here is very high, the weather is amazing, there's no natural disasters and the property taxes are low.
Q: Why are you optimistic about the local market?
A: The reason I'm so optimistic is because if the (NFL's) Raiders come and we have the (NHL's) Golden Knights coming. This is tier-one city stuff. I personally think the recreational legalization is going to help us in the next couple decades.
Q: How did you get into real estate?
A: I've been around it my whole life. I rejected it my whole life. I was 20 and I was getting my degree, and my dad's like 'Just get your license.' I went and got it. I graduated from UNLV and I started teaching. I was teaching at Lincoln Elementary at Cheyenne Avenue and Berg Street. I loved the kids. I was a PE teacher for elementary school.
Q: You wanted to change fields, though?
A: I love this (the educational field), but I'll never be able to survive doing this for my whole life, so I decided to give it (real estate) a shot. But I was stubborn, I knew my dad would just hand me deals, so I did mortgages while I did real estate. And I got my own business.
I remember the first month I actually beat him. I have eight in escrow, and he had like five. It was about 2006.
Q: Why did you want to be president of GLVAR?
A: If not us, then who's going to do it? You can't really complain about anything, and you can't really say you're protecting the industry unless you actually step up and do it.
The presidents before me have said the same thing: We have an open door, come get involved, come see what it's about.