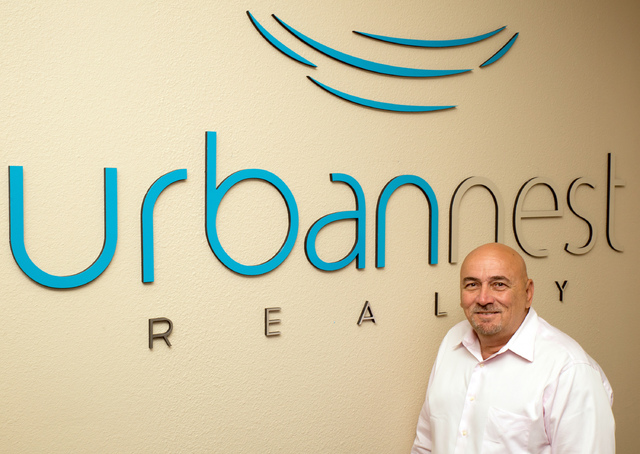 David R. Tina, 2016 president of the Nevada Association of Realtors, has walked many roads but real estate is his passion.
In his younger days, Tina worked as a New York City fireman. Tina said, he worked eight days a month as a firefighter, but the other 20 days he spent selling real estate.
Armed with passion, Tina helped open a Coldwell Banker office in the Long Island town of Medford. Tina, the firm's broker, said he brought the location to No. 1 in the area.
During his time on the East Coast, Tina also opened a restaurant called the Landmark Café.
In 1997, he sold the restaurant and moved to Las Vegas, where his son, David J. Tina, was attending UNLV.
Tina continued down his path of working in real estate, spending time with Properties Plus and Realty Executives in Las Vegas.
In 2007, he became the corporate broker at Realty One Group in Las Vegas. Two years later, he moved up to general manager of the entire company.
In 2012, Tina then opened a real estate company, Urban Nest Realty, with his son. The company has about 250 agents. Tina Sr. received NVAR's 2016 Realtor of the Year award in September.
Q: How have the prices of homes fared in Las Vegas since the recession?
A: In 2007, the median price for single-family was $318,000. In 2011-12, it went down to $118,000. Now, in 2016, we're at $236,000.
Q: What's the state of real estate in Las Vegas?
A: Now, the great news, we're not in a bubble in any way. We were in 2003 to 2007. Prices have come back where we have a tremendously stable market. Yet, we're not an inflated market, like those that have already started to get in trouble: Manhattan, Los Angeles, San Francisco and Miami. They went back up so high that now their market is struggling. With the interest rates under 4 percent, and our price stable but reasonable, we're in an excellent market right now.
Q: Where do you see prices heading?
A: I see a steady, good increase of 8 percent to 9 percent a year.
Q: How many houses do we sell per year in the valley?
A: We're selling about 36,000 houses a year. And we're doing well. We're up around 9 percent from last year.
Q: What about housing supply in Las Vegas?
A: We have about 7,500 homes for sale in the resale market, which is lower than normal. It's only about a three-month supply. But we have the builders building like crazy. In a lot of other cities, they have no inventory, but we do. We have inventory, so we are not struggling to find houses to sell.
Q: What do you think about the land availability in Las Vegas?
A: All the land that had stalled and was already plotted out to be built, that you could build on immediately and was already subdivided into lots, it's all gone. All of it has been bought and taken up. Any new sales now, they still have to get the lots. There is land. Summerlin has land. The whole city has land, but it's going to take a little longer to take that land on because it isn't subdivided into lots yet.
Q: What about land prices?
A: Land prices are flying high, it's as precious as it was before. You could figure the price of a new home versus a resale is 15 percent to 20 percent more.
Q: What do you like to do when you're not doing real estate?
A: I love to read. I always have a book in front of me, and I love to eat at Mastrioni's Café.
Q: What about retirement?
A: I'm staying. This is my passion. I love real estate.