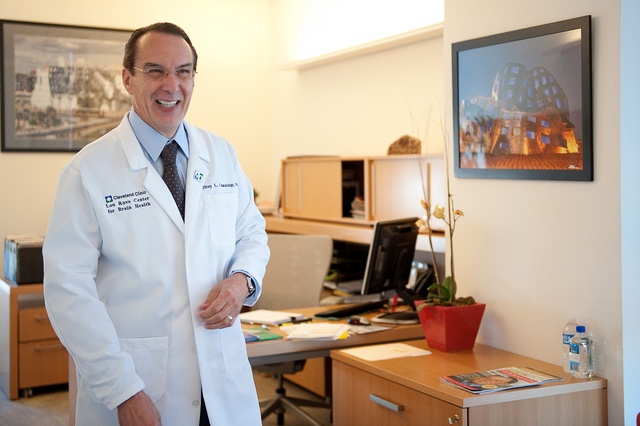 Jeffrey L. Cummings, MD, ScD, is director of the Cleveland Clinic Lou Ruvo Center for Brain Health in Las Vegas, Nevada and Cleveland, Ohio. He is the Camille and Larry Ruvo Chair of the Neurological Institute of Cleveland Clinic and Professor of Medicine (Neurology), Cleveland Clinic Lerner College of Medicine of Case Western Reserve University.
He attended the University of Wyoming. He then completed a neurology residency and fellowship in behavioral neurology at Boston University and a research fellowship in neuropathology and neuropsychiatry at the National Hospital for Nervous Diseases, Queen Square, London.
Dr. Cummings has taught at UCLA and is past president of the Behavioral Neurology Society and the American Neuropsychiatric Association. He has authored numerous books and more than 650 peer-reviewed papers.
Q: Tell me a little about your expansion into urology in the local market. Why urology? Was there a specific need?
My colleague, Dr. Eric Klein, played an instrumental role in the expansion of urology into the Las Vegas market. When I spoke to him about this, he said, "We were impressed with how the local community embraced the Ruvo Center and when Dr. (Scott) Salvis, a local Las Vegas urologist, approached us about joining GUKI (Glickman Urology &Kidney Institute), we decided to establish a urology practice there, which now includes him, Dr. (Laurie) Larsen, and Dr. (Jayram) Krishnan. We've been equally impressed with how the Las Vegas community has embraced our urology services as well the high demand for our services."
Q: Until a few years ago, Las Vegas really had no medical research facilities to speak of. How has that changed, with the opening of your institution and the UNLV medical school, and do you see more research facilities opening here? Has the failure of Nevada Cancer Institute a few years ago had a detrimental effect?
This is a particularly exciting time for the growth of neuroscience in Southern Nevada. The Cleveland Clinic Lou Ruvo Center for Brain Health is broadening research, particularly in clinical trials and in brain imaging, that rivals any such facilities in the United States. The award of the National Institute of Health (NIH) Center of Biomedical Research Excellence (COBRE) grant to Cleveland Clinic and University of Nevada Las Vegas (UNLV) has further spurred growth of the neuroscience environment and the ability to develop young and emerging neuroscientists, including our own Dr. Sarah Banks, head of the neuropsychology program at the Cleveland Clinic Lou Ruvo Center for Brain Health. The school of medicine will no doubt bring more neuroscientific enterprises to Southern Nevada and shed light on the important consequences for understanding the brain and developing additional facilities.
The unfortunate experience with the Nevada Cancer Center has caused some concern in the philanthropy community. The current group and the enduring qualities of neuroscience enterprises such as the Cleveland Clinic Lou Ruvo Center for Brain Health have been very reassuring. We want to make sure that their donations support science and health care.
Q: What role does medical research in general and your presence in particular play in our community?
Medical research and clinical trials are the only means to developing new therapies for brain diseases or diseases of any kind. There is no running brain disease that is currently adequately treated. The need for new treatments and better treatments as the population ages and more neurological diseases occur is urgent. The presence of the Cleveland Clinic Lou Ruvo Center for Brain Health and our exciting trials and enriching programs ensures that Nevada is the first to benefit from new advances in treatment of brain disorders.
Q: We've been told by some real estate experts that Las Vegas is slowly becoming a market for medical tourism. How do you see this development?
The growth of medical expertise in Nevada makes Las Vegas a natural site for medical tourism. Patients and families come here for medical care while enjoying the rich types of entertainment available in Las Vegas. We see medical tourism as a growing industry for the city moving forward.
Q: Do Nevada and Las Vegas have a sufficient supply of qualified professionals to serve your needs as an employer, or do you still have to go outside the market?
Because of the relatively recent growth of neuroscience in Southern Nevada, the resources available for the growth of scientific programs and the placement of individuals who lead them are needed. We find ourselves reaching outside of Nevada for these things. However, we are also committed to bringing course development to Nevada to ensure that in the future there are an adequate number of well-trained individuals available.
Q: Is the state doing enough to develop the right kinds of employees for high-skill, high-tech workers?
We can all do more to encourage the growth of the health care, biotech and high-tech industry in Nevada. Good schools are essential to attracting families with school-age children. Culture is essential for attracting well-educated individuals who have experience in the internal environment of their trade. These things are needed to ensure that the Southern Nevada environment is inviting to high-tech professionals.
Q: Are there any new developments in brain research that you're particularly excited about?
We are currently testing three drugs, Aducanumab, Solanezumab and Crenezumab, which are exciting intravenous treatments. All three of them attack the toxic proteins of Alzheimer's disease. All of them have substantial promise for removing or neutralizing the toxic protein and stabilizing the loss of cognitive ability. We are very excited about this group of drugs that have shown more promise in early testing than any we have seen.
Q: What do you like to do in your free time?
My wife and I love art galleries. We love great food and wine. We have filled our home with art and love an evening together at home enjoying our dogs, a great meal and a great glass of wine.