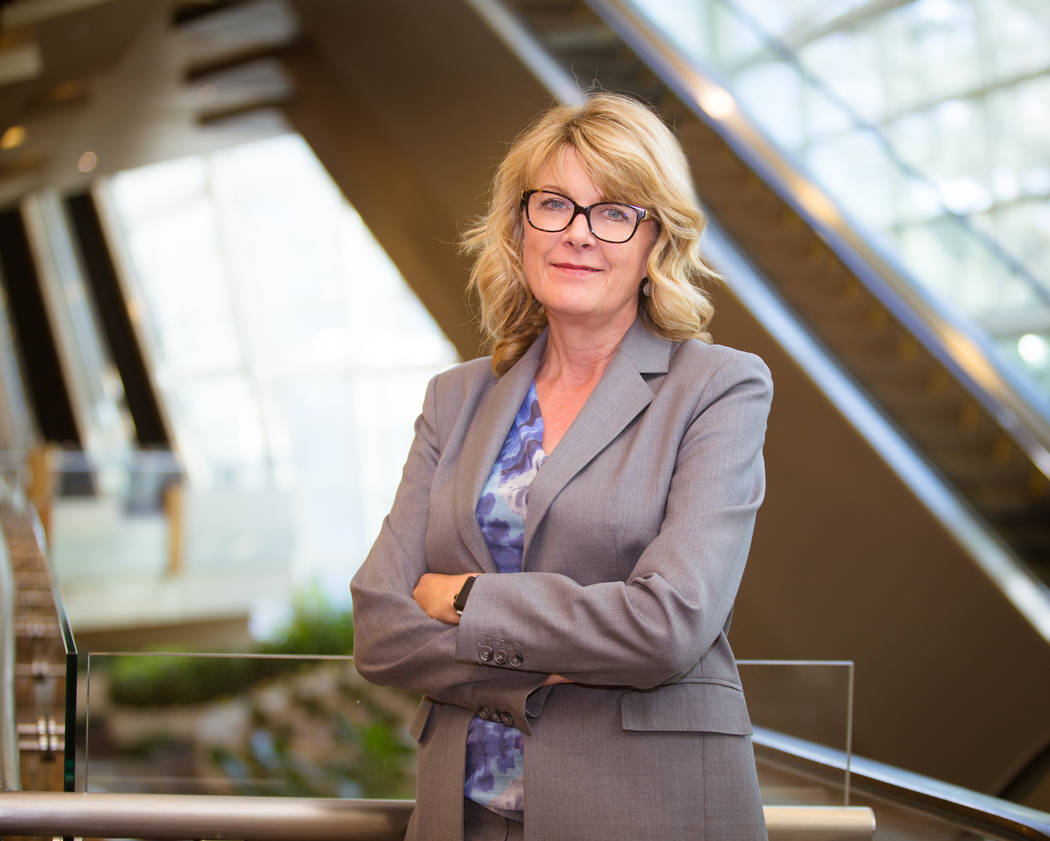 Cindy Ortega, chief sustainability officer of MGM Resorts International, was among five new board of director members named by the Las Vegas Global Economic Alliance in March. The Utah native is responsible for environmentally conscious operations at MGM properties worldwide.
Ortega was named one of The 10 Most Powerful Women in Sustainability in the United States by Green Building &Design magazine. She is a graduate of University of Nevada, Las Vegas.
Q: How long have you been employed at MGM?
A: I have been here for more than two decades. I spent most of my adult career in this company.
Q: What is your function as chief sustainability officer?
A: It is a dual function. My primary responsibility with the company is that I'm responsible for the company being environmentally correct and that we pursue environmentally forward initiatives. And on a day-to-day basis, my function is that I oversee large, complex initiatives. I have a team of people who are experts in energy management, construction management — those kinds of things. We work at these big projects to get them implemented.
Q: Are you bringing some of that experience on to LVGEA?
A: The most important thing is our community. It is where you live; it is where I live. It is where our 52,000 employees live, here in Las Vegas. MGM is the largest taxpayer and the largest employer in our community.
What I bring to the board of directors is a deeper level of expertise on environmental concerns and causes that may come up in the community, and how to better position or community to be more environmentally correct.
Q: The LVGEA tries to attract companies to the region. During that process, will you try to help them implement those types of environmental-based programs?
A: There are two parts to that. One part is that, when a company is run by an environmental leader, they want to do business in a place that cares about the environment. Las Vegas is a leader in this area, using less electricity and using less water, putting better programs in place in our schools for environmental education. That attracts companies to a metropolitan area.
But also, it is really important that when you move your company and family to Las Vegas, you want to be the community where your business or your family can thrive. So if you have a company like MGM, where environmental responsibility is a priority to us, your family can work for a company like MGM. So we think participating on this board is a way for us to work with other big companies in Las Vegas to increase our environmental profile in our own companies and in our community.
Q: But it also has an economic creation element, right?
A: It is interesting, because I tell people that a green business is a better business. It sounds like a tagline, but in fact, greener business is better business because it is more efficient, because it does not waste money on electricity and water. Companies looking to come here, that is what they're looking for. They're looking for a platform to bring their companies to where a green community is a better community. It is a more efficient community. It has less waste in the community. It has better urban planning. It all revolves around sustainability.
Q: What percentages do you believe MGM has saved over time, in terms of cost and energy savings?
A: We look at saving energy as a way to completely eliminate a resource use and have no … detriment to the guest. If I figure out a way to — like in this building with highly efficient lights — these guests still enjoy the same experience here at the Aria Conference Center. But I can use that money to go build a better restaurant or nicer accommodations for the guest.
So, we focus on energy savings. We've been on the program over the past number of years and we've eliminated about 11 percent of our energy. Our goal is to reduce 20 percent of our energy use, from a 2010 baseline, by 2020.
So the next step for energy-efficiency is renewable energy. So right now, one of the big initiatives that I am working on here at MGM is to go out and buy a significant amount of renewable energy for our portfolio.
It's a challenging topic. It is in Legislature right now. It is one of the most important topics, along with the energy deregulation in Nevada right now. It is a challenge because renewable forms are not as easy to predict as traditional forms of electricity. It is more variable.
Q: I have heard the more efficient solar panels are being developed.
A: The technology is improving? People say that. The cost of the panels has gone down a lot for sure. But I have not seen — and we really need to do this in solar energy — is to make a smaller footprint. Let's face it, we have a 28-acre array on top of Mandalay Bay. Well, how many 28-acre roofs do you think there are? If you look across the world, we have to get it smaller.
Q: You also use natural gas.
A: Yes, we have the natural gas generator right here. And with that, we produce it with a gas engine. We use that waste heat to heat all of the water in the entire complex. So you have your showers here, your pools, your kitchen hot water, it is all produced through waste heat from producing our power here.
Q: Are there any plans to expand energy self-production?
A: Now that we can buy our own power, it is really a better equation for us. Next week or so we are issuing an RFP (request for proposal) for a significant stake in renewable energy. At that time, we will be out in the market buying renewable energy for our properties. That is a way that we can do it. It is not right here where you can see it, but the effect is still the same.
Q: Last, I wanted to ask about you being named to the LGVEA board.
People are on boards because we can bring the capabilities that we learn from our careers into environments where they are really useful. I have been a chief financial officer in my past, and when I go onto a nonprofit board, I can bring that experience into a nonprofit. And the nonprofit itself could not afford to hire a key financial officer.
So the perspective of board members is usually drawn from their rich experience. And that helps the nonprofits, who do not have to hire people with that experience. The reason I wanted to come onto this board is because it is made up of people who are extremely successful in their own careers and initiatives. All different sectors of our city. When you bring people together with their own points of view and experiences, it is very powerful. It is very meaningful to me to be on a board like that and help shape the future of our community.