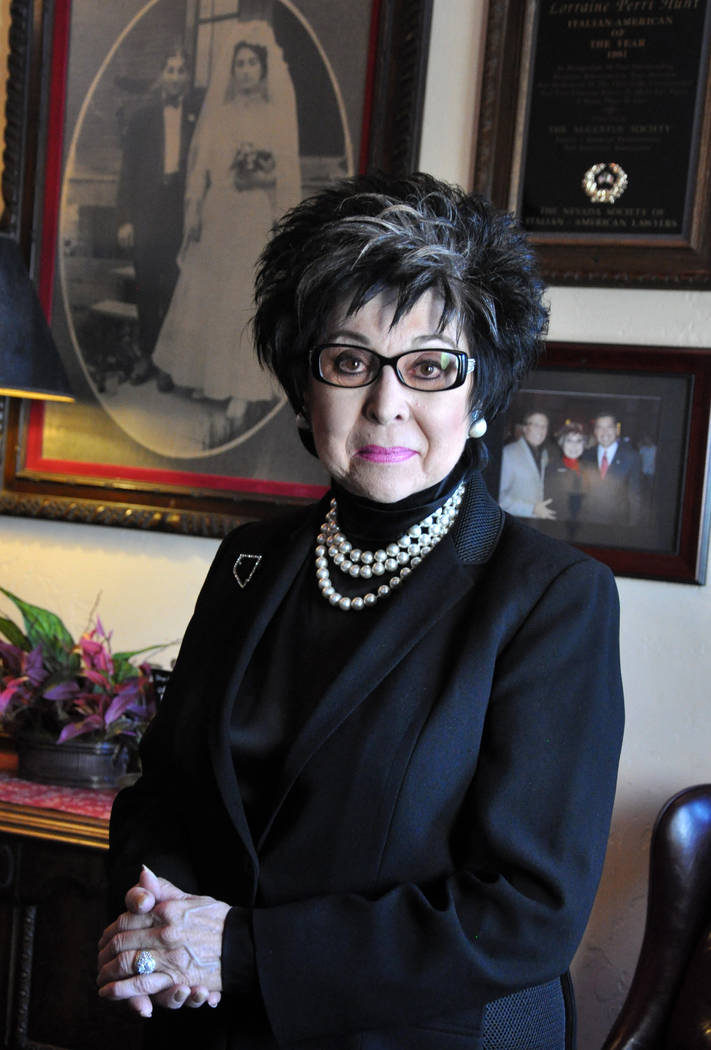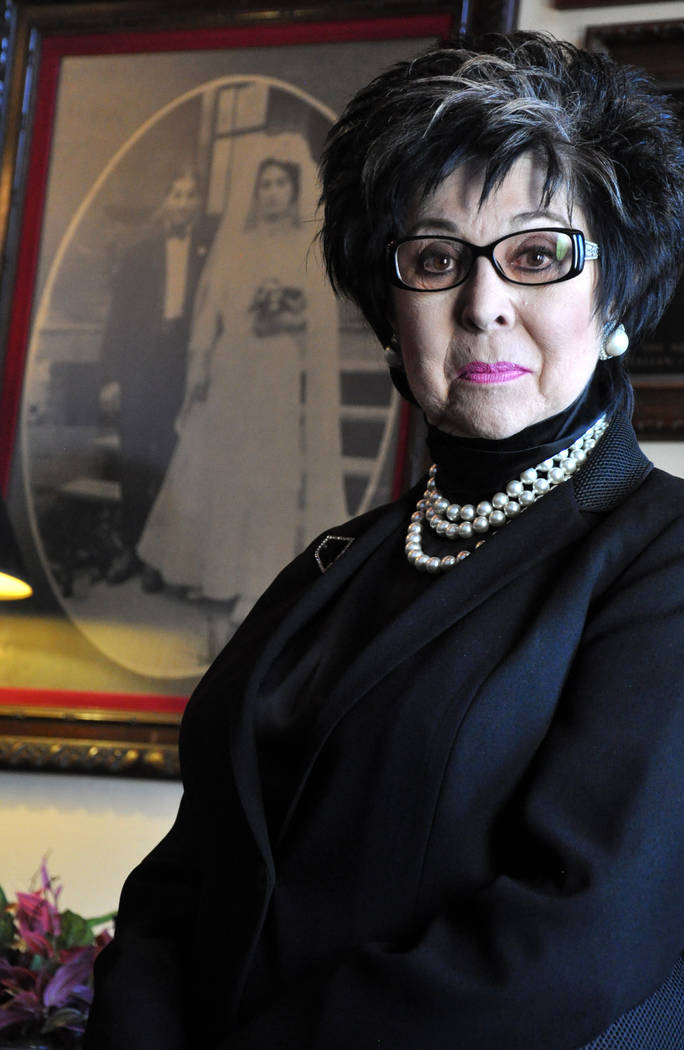 Since arriving in the Las Vegas Valley as a child in 1943, Lorraine Hunt-Bono has worn the hats of entertainer, entrepreneur and local and state politician. At the center of her life's work is the Bootlegger Italian Bistro, which she opened in 1972 with money she earned from singing on the Strip. Today, the family restaurant's popularity continues to grow, offering a broad range of Italian dishes and evening live entertainment.
Q: Tell us about the founding of The Bootlegger.
A: So I bought the land in 1979, when I was singing with Jerry Colonna musician and comedian known for appearing in films and radio with Bob Hope.) My parents had just sold their restaurant in 1972, The Venetian Ristorante on West Sahara (Avenue), that they owned with my aunt and uncle, Angie and Lou Ruvo (whose name is on the Cleveland Clinic Lou Ruvo Center for Brain Health.) They had been partners, the four of them. So they sold the restaurant there, and my mother — after about nine months of retirement — said she was bored stiff. She said, "What are you going to do with that land you have out on Tropicana and Eastern?" I said, "I am going to build you a restaurant," because I knew that it was what she wanted.
My idea was, since I was singing at the time, I had a lot of the great jazz players that played in those days. Everybody from Sarah Vaughan to Mel Tormé to Billy Eckstein. Musicians who were living and working in Vegas. I wanted to open a jazz club. I said, "Tell you what, Mom, you do your spaghetti and meatballs and pizza. And I will build this little club. And we will get a liquor license, a couple of slot machines, and we will have a place that we can hang out in or entertain your friends. You can cook, and that will be what we will do." It started with that idea. At that time, I was singing at the International Hotel in the lounge where Elvis Presley was in the big room.
Q: How did the business go in the beginning?
A: My mom came to me on the second or third day and said, "How big is the kitchen? Make it a little bit bigger, because as long as I am going to make spaghetti and meatballs, I could make a little veal Parmesan. What is the difference?" So that is how it developed — how I opened The Bootlegger at Eastern and Tropicana with my mother and father as my partners. I took a hiatus from the International Hotel — which became the Hilton — and said, "I'm going to go get the restaurant organized, and then I will go back to singing." Which I never did.
Then immediately, people came to me and said they want to be next door. I said OK, I will build some more stores. Eventually, I built out the entire southwest corner of Tropicana and Eastern. The Village East Plaza. That got me about 23 or 24 small-business tenants. We did that until we sold The Bootlegger.
Q: Which was around 2001, when the restaurant was relocated here, to South Las Vegas Boulevard. What was the reason for the move?
A: I always wanted to be on the Strip, but we could never afford it. That is why, in 1983, I bought this property (at 7700 S. Las Vegas Blvd.). I thought maybe the town would keep growing and — if I lived long enough — we'd be able to build a new Bootlegger on the Strip. The south Strip but … the Strip.
Q: At some point, you decided to pursue politics.
A: I had not been interested in politics, just in business. At the same time, I founded a bank — Continental National Bank — which was directly across the street from Tropicana and Eastern. We started working on lending to small businesses. Then some of my tenants started coming to me with their issues and the problems they were having — with Clark County, with the health department, with the government, with this, with that. I thought, "What are they doing to small businesses?" My mother said, "Lorraine, you better go down there and tell them the backbone of this country and the backbone of Nevada has been small businesses."
They were destroying them with all of these rules, regulations, taxes and all of these things that are not meant for small businesses. They might be fine for big corporations and big factories, but not for the mom-and-pop stores. "You've got to do something about it," my mom said. So I started on behalf of my tenants, and my own business with my parents. Going in (to public meetings), saying, "This is a ridiculous regulation, and here's why." And little by little, we started having some success getting changes, or at least getting some powers that be to realize that small business is a different animal.
(Hunt-Bono served as Clark County commissioner from 1995-1999 and Nevada lieutenant governor from 1999-2007.)
Q: It seems like, no matter what lives you and your family pursue beyond The Bootlegger, this is a sort of an enduring foundation for you all.
A: It is the heart of our family legacy. It all started with my mother and father, and the inspiration from my great grandfather Luigi Zoia, who owned a boarding house in Niagara Falls, Canada. My father (Al Perry) was the affable front of the house guy. Great personality. He and my mother (Maria) established the restaurants. And I grew up in that environment.
Q: What prompted your family to migrate to Nevada?
A: My parents were from Niagara Falls. My mother was from the Canadian side, my father from the American side. The Niagara River was in the middle. He went to a dance, because the Italian boys went to see the Italian girls on the Canadian side. He met her there, they got married. Soon after I was born, he became very ill with rheumatic fever. The doctor said, "If you do not get out of this cold climate, you will never live to see your little daughter, Lorraine, grow up."
This was in 1943. My parents were poor Italian kids who survived the Great Depression. They asked the doctor, "Where should we go?" He said, "Either Phoenix, Arizona, or Las Vegas." So they decided to come here.
We lived in government housing, Victory Village. In those days, there was no housing. All up and down Boulder Highway there were tents and cardboard boxes. They were doing some kind of chemicals for the war (magnesium production for aircraft parts and munitions). After that, they bought one of those little houses in Henderson (Townsite houses originally constructed as temporary shelter for plant workers in the 1940s). Then we moved to the big city — Las Vegas — population 8,000.
Q: What is your favorite of your mom's recipes?
A: I would have to say mama's Venetian sauce and rigatoni.