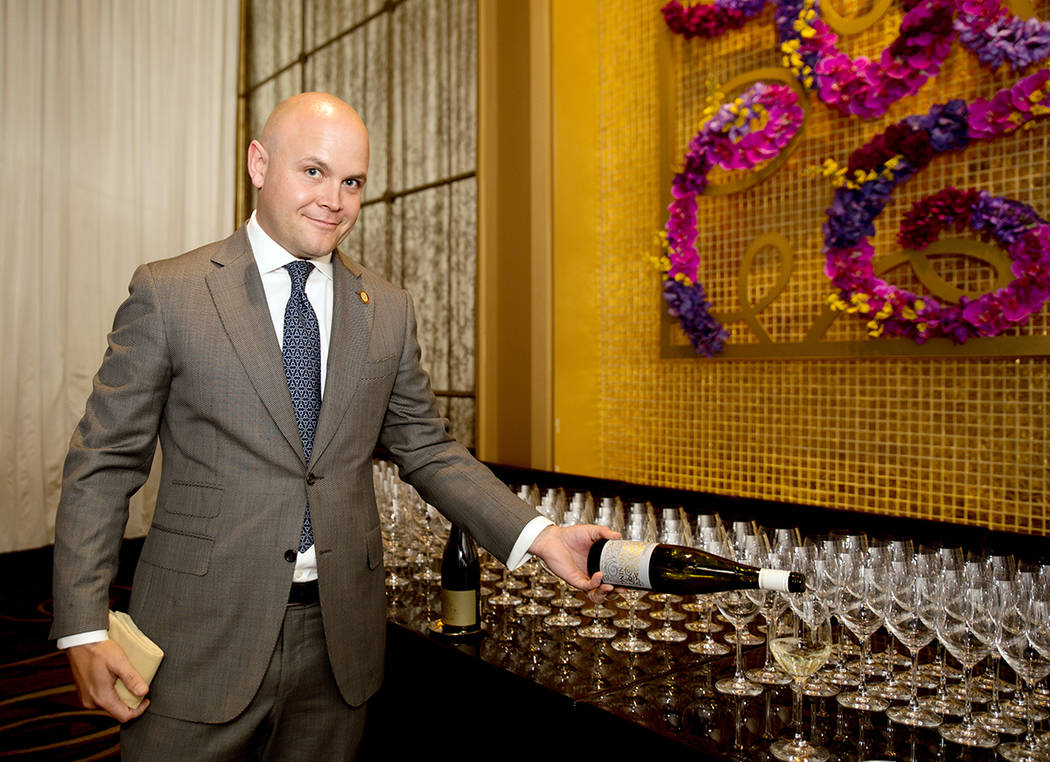 Nick Hetzel knows foreign travel, usually jumping from one country to another, all in a matter of hours, minutes sometimes.
Hetzel is one of a dozen individuals in Las Vegas who have achieved the title of master sommelier from the Court of Master Sommeliers. The master sommelier for Sage restaurant at Aria earned his designation in 2013.
Hetzel is one of more than 236 designees across the globe, 149 in the Americas Chapter, that hold the designation.
Hetzel holds a bachelor's degree from the University of Nevada, Las Vegas in food and beverage management and has been in the industry for 15 years, serving fine food and top-shelf wines in Las Vegas and Irvine, California.
He is originally from Ames, Iowa, and came to Las Vegas after graduating high school.
Q: What first attracted you to wine?
A: I went to UNLV right out of high school and caught the wine bug in college. I took a class from a master sommieler at the time, Steven Geddes. He was a super passionate teacher, so I really enjoyed the class, ended up going to Europe for the summer studying wine.
Q: What is the process like to become a master sommelier?
A: A lot of it is self-study, dedicating the time to study all wine regions of the world, all wine-making styles — time spent with peers, tasting, studying. And then time spent on the job. I think what sets our accreditation apart from others is that it would be really difficult to get through the entire process, passing all the exams if you're not actually working on the floor in a very good restaurant where you're dealing with all the great wines of the world, the best cuisine in the world.
Q: How long was the process?
A: As we say, everybody's journey is different. It took me about six years.
Q: What does having a master sommelier on staff do for a restaurant?
A: What it does in any hospitality outlook, it defines your level of professionalism in the hospitality industry. Certainly, beverage being our focus — wine, spirits, cocktails and beer. I think that anyone that employees a master sommelier, or people involved in the program, they're simply setting a standard for beverage service and hospitality at a very high level.
Q: Do diners seek out master sommeliers when choosing where to eat?
A: I think that's changing a bit. There was a documentary that came out a couple of years ago which has really brought our organization and what it takes to become a master sommelier to the forefront. It's a documentary called "Somm." Certainly, since then, there's a lot more recognition. People feel that they're in very good hands once they meet with me or any one of my peers.
Q: How is a wine list unique from other restaurants where there is a master sommelier employed?
A: I think what you find with a master sommelier-written wine list is somebody that has a lot of experience and really tries to represent wines that fit for everyone. Sometimes, you get junior sommeliers that get really passionate about one wine or region or whatever, and they really geek out on that and they overload their list on something that's very specific. That can be great, but I think, again, going back to that level of hospitality and understanding your clientele, I think you find a list written by a master sommelier has thought put into it. I like to say for everyone: Wine I put on the list for myself, I put one wine on the list for my mom.
Q: What is the most expensive wine on the menu at Sage?
A: Right now on the wine list, the most expensive wine is about $9,000.
Q: Who usually purchases high-priced wine?
A: There's a certain clientele, and generally they are those that gamble, that like extravagant amenities.
Q: Are there any common themes to the wine scene in Las Vegas?
A: Las Vegas is a very diverse market. It's hard to really say people drink one thing, gravitate more toward one thing. I think to have a great wine list in Las Vegas, you need to have a little something for everybody. … We see it all.
Q: What do you like to do on your days off?
A: I'm an avid golfer. That's something I like to do on my days off.
Q: Do you have a favorite course?
A: Usually, I can be found at Las Vegas Paiute Golf Resort.