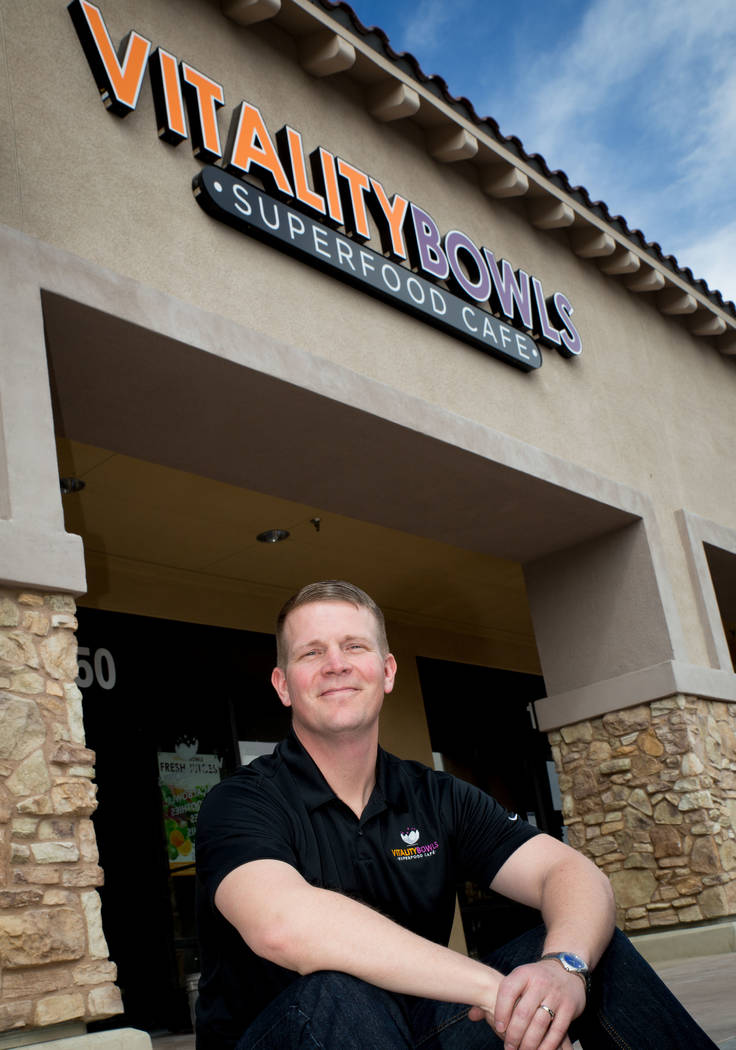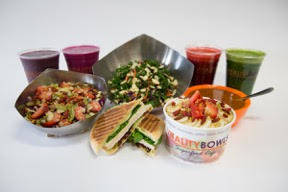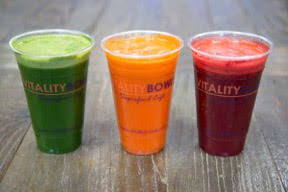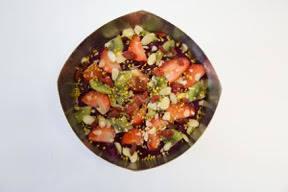 Las Vegas entrepreneur Stephen Belcher has brought a healthy restaurant option for on-the-go consumers to the southwest part of Las Vegas. He said he plans to expand his franchise of the California-based chain to other parts of the valley.
Belcher, co-owner of Nevada's first Vitality Bowls franchise, a fast-casual, healthy food restaurant concept, opened his doors at the corner of Blue Diamond Road and Decatur Boulevard in mid-April. The brand started in Northern California and is known for its acai bowls and other healthy options.
Belcher is a military veteran and has been deployed several times during his more-than-nine years of military experience, including to Afghanistan, the Philippines and South Korea.
The Logandale native, who now lives in the valley's southwest side, plans to open at least three stores in the Las Vegas area with his partner, Antonio Mesquita. The Vitality Bowls brand began in 2011 in San Ramone, California, and now has more than 70 locations across the U.S.
Q: What attracted you to the Vitality Bowls brand?
A: We wanted to have a restaurant. And we saw the healthy food and we just got hooked. My family suffers from so many health concerns. My father had a stroke, had a kidney transplant. He's diabetic … I had a brother who had heart problems. A lot of it comes down to diet and eating the right foods. It was a passion to be able to see how I can help my family and my friends and have something convenient to offer the local community.
Q: Where do you see the healthier market for fast-casual restaurants heading?
A: I believe there's a strong market. People are looking for nutritional and healthy options for going and eating out. … More people are eating out now. They just want to be able to find that healthy place.
Q: What was the capital investment to get things started?
A: The cost was $35,000 to start. The build-out, in the end, is going to be $250,000 to $300,000.
Q: What makes acai bowls, and Vitality Bowls' other options, so healthy?
A: The acai is marked as an actual superfood. It's one of the world's superfoods. It's high in antioxidants and amino acids, and it's a great base.
We also have what's called a VB blend that has other superfoods mixed into it. It's proprietary, so I can't go into detail as to what's in it, but that also adds so much more nutrition to it. Then it has fresh fruits, strawberries, bananas and the organic granola. A lot of our food, we get organic as much as we can or has where we stick with local markets. It's all fresh food made to order.
Q: There's also other options at Vitality Bowls besides the acai bowls?
A: We not only offer acai bowls, but we also offer soups and salads and panini. We have an item on the menu for everyone who comes in.
Q: You plan to bring more locations to the valley?
A: We did not make a contract to guarantee how many we'll have open. We showed them the interest we have in having three, and they're working with us to do that. We're going to look at Summerlin and Henderson, as well as Centennial Hills — that area.
Q: You also plan to bring more locations outside of Nevada?
A: I want to have more in Utah. My family is from Utah. California is already established, but they don't have anything in Arizona. They don't have anything up in Reno. Three locations here. I'm hoping to have eight to nine locations by the time I retire from the military.
Q: How is it being a business owner and still working for the military?
A: I'm fortunate that the military has allowed me to do both. I will still fulfill what the military expects of me. I never fall short of that, and I have to do this as well. I'm grateful for them. Again, they don't endorse this, but they're supportive of me, as long as I maintain the expectations that they have of me there.
Q: Do you plan to hire veterans at Vitality Bowls in Las Vegas?
A: We're going to hire up to 18, and one of my focuses is to hire veterans and military. About 50 percent of my team is in the military, in the reserve, in the National Guard.