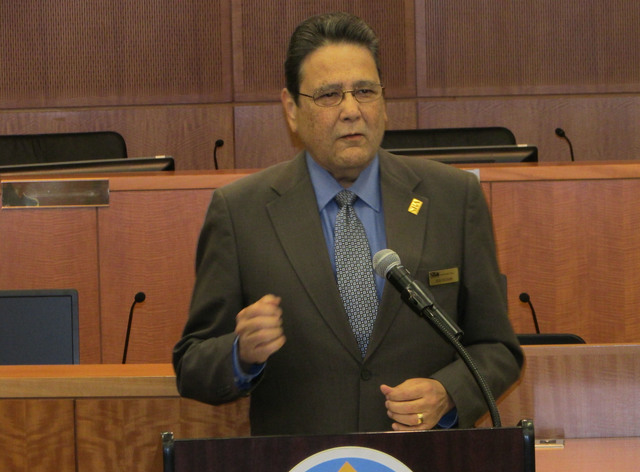 A leader in helping small business owners and veterans realize their dreams of being successful business owners was lost in mid-January.
Robert (Bob) Holguin, the Nevada district director for the U.S. Small Business Administration, died Jan. 15, leaving behind a legacy of increasing funding to help small, local businesses grow and veterans increase their potential for success.
"Bob Holguin was an outstanding advocate for Nevada's small business community," said SBA Region IX Administrator Donna Davis. "His leadership and experience will be deeply missed, but his legacy of support for the state's entrepreneurs will live on."
Holguin had a long career helping small businesses realize their dreams. When he was the manager of the East West Bank's SBA lending division from 2005 to 2007, Holguin increased SBA lending from $18 million to more than $75 million, within 12 months. Holguin eventually brought the East West organization to the top 100-ranked SBA lenders in the country.
Shaundell Newsome, founder of Sumnu Marketing, as well as an advocate for small businesses in Nevada, knew Holguin well and was fond of the strides he brought to the local community.
Newsome said he met Holguin a couple of years back when he entered the SBA as deputy director.
"One of the things that he talked about was addressing the access to capital for small businesses," Newsome said. "That's the major piece nationally as well as locally, is access to capital."
Newsome pointed to Holguin's push to bring alternative lending to the Southern Nevada market. One that he championed was Accion — a nonprofit organization that extends loans to small businesses.
Holguin also championed small business development.
"He brought in the Emergent Leaders program," Newsome said. "That course helped existing business owners, but also a little bit about how to develop a growth plan for their business, which is what a lot of people don't talk about is a growth plan."
Prior to coming to the SBA, Holguin spent 11 years in the banking industry. He also served in the U.S. Navy during the Vietnam War.
During his tenure at SBA, he gave back to the armed services through programs that helped with turning leadership into entrepreneurship. Holguin supported the Boots to Business program at the SBA — a training program that helps veterans transition into management rolls.
Newsome is involved in teaching the program. As an Air Force veteran, Newsome finds the program important.
"Don't forget about your vision, don't forget about your mission, don't forget about all the things you learned about in the military because it benefits you as a business owner," Newsome said. "That's how you become successful; don't lose that. That's something else that Bob championed."
Services were held Jan. 28 at The Church of Jesus Christ of Latter Day Saints at 8755 Iron Mountain Road.