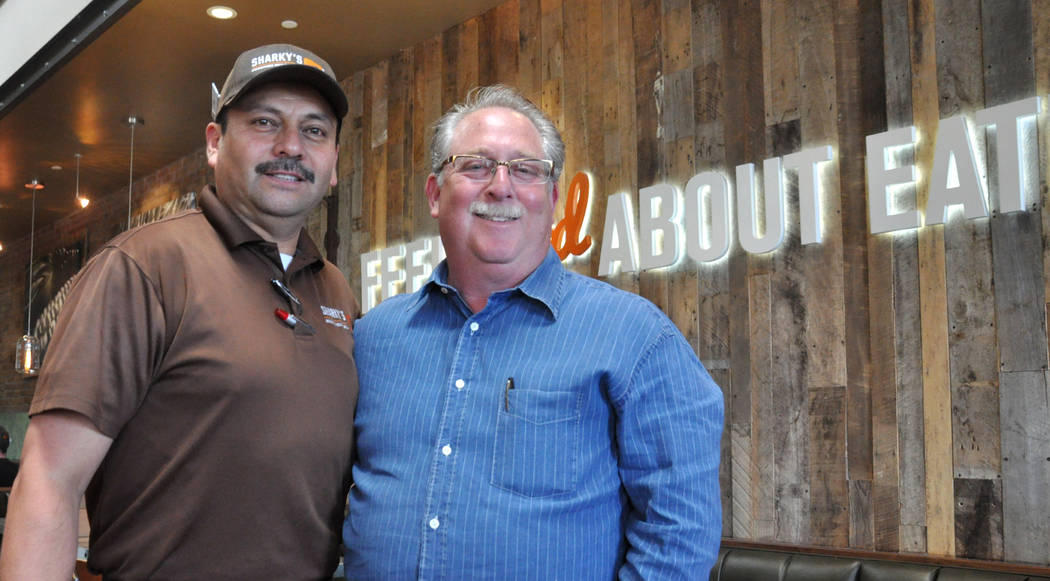 Domestic sales in organic foods have been steadily increasing for decades, according to the Organic Trade Association and Nutrition Business Journal. In 2015, U.S. consumers purchased $43 billion in organic food, representing 4 percent of total food sales that year, according to OTA statistics.
The public interest in organic products in farmers markets and grocery aisles is extending to restaurants. What was once a niche culinary sector is increasingly mainstream, with high-profile chains such as Jason's Deli and Chipotle restaurants offering at least some organic and/or GMO-free fare, and the nation's first certified organic fast-food chain, The Organic Coup, opening in Pleasanton, California in 2015.
Sharky's Woodfired Mexican Grill is a growing regional chain entering the Las Vegas market with a corporate location opening May 8 at 8975 W. Charleston Blvd.
FEEL-GOOD FOOD
"For 25 years, we have been about — as a business — feeling good about eating, in one way or another," said company COO David Goldstein.
More than a decade ago, Sharky's began sourcing more ingredients that were organic and free from genetic engineering. "We started that long before most other folks were looking at it," said Goldstein, who has been with the company since 2007. "We have added to the list of organic ingredients. I think we are up to 22 or 23 now. When you are in organic, you're almost always in the non-GMO area."
The term organic is a marketing designation offered by the United States Department of Agriculture based on various practice criteria in production and handling, depending on the specific product. GMO refers to foods that have been genetically engineered for higher yield, drought and disease resistance and other benefits.
"Twenty-two years ago, we made a decision to serve organic rice and organic beans," he explained. "It was a decision about how we wanted to live and what is important to us. We slowly but surely began to update the brand in a way that really matched the quality of our ingredients."
HUMBLE BEGINNING
In 1992, the first Sharky's restaurant was founded by CEO Steve Paperno in Sherman Oaks, California.
While running a prosperous business centered around frozen banana novelty foods, he made hundreds of annual work-related trips to Mexico and became attracted to elements of the national cuisine.
"Steve had a warehouse where he made the banana (products), and two doors down from him was another guy who had an auto detailing business," Goldstein said. "He said to Steve, 'We should start a Mexican restaurant.'"
"Steve said, 'No, I am still on this banana thing, and it is going great.' So the guy said, 'I am going to try. I'm going to sell the auto detailing business and open a Mexican restaurant.' Well, the Mexican restaurant that he started was Baja Fresh. And two years later, Steve founded Sharky's."
The first restaurant was a tiny, 600-square-foot building on Burbank Boulevard, across from Los Angeles Valley College.
"Steve is built around exercise and great food as fuel," Goldstein explained. "He wants really clean food — he has always wanted it, and that is how we have ended up in this place. I think the rest of the world has caught up — there are now other great brands doing it. And we are really excited that they are doing it with us now.
"When McDonald's says that by 2022 they will have antibiotics-free chicken, you know something has changed."
FOOD AND DRINK
The food is characterized by carefully prepared, healthy food. Dishes include wild-caught salmon burrito, roasted veggie bowl with quinoa, cauliflower and yams, fajita bowls with choice of meats or tofu, wood-fired pizza and a two-taco plate with a side of organic rice and beans. Typical entree prices range from $9-$12.
Sharky's also pays special attention to beverage offerings, including handcrafted lemonades and alcoholic drinks.
"We do watermelon-basil lemonade and pineapple-lime and also a hibiscus green tea," Goldstein said. "And we do handcrafted sangrias. It is important to have a beverage program that complements our food."
LOCAL FLAVOR
The restaurant is committed to locally sourcing ingredients, when possible, including regional specialties — such as Oregon marionberries — that are not widely available in other markets.
"We are always looking for products that are local, but we are not going to find local produce in Las Vegas," Goldstein said. "That is not going to happen."
"We try to find local breweries that want to participate with us in bringing their beer. We had a great conversation with the guys at Tenaya Creek Brewery, and talked to some of the other really fantastic local guys that are doing great brewing."
OPPORTUNITY IN THE DOWNTURN
Goldstein said the 2007 recession impacted the restaurant industry in unexpected ways, increasing market competition and elevating offerings to consumers.
"The TV Food Network gave birth to culinary schools all over the United States," Goldstein said. "Even if it did not mean a lot from a wage standpoint, the honor of being called a chef became more meaningful to more people."
Then the recession began to take a toll in 2008 and 2009, closing many restaurants and creating a glut of unemployed young chefs.
"All these talented, really smart people who were artists, they all of a sudden had no money and could not ply their trade in a full-service restaurant. So they found other ways to be able to ply their talents, and a lot of really good restaurants came about.
"Fast-casual restaurants, where they took spaces that were dilapidated. Some were old restaurants that were abandoned — they took them for pennies on the dollar, and they benefited from that and were able to — in some cases — grow a chain out of it. In other cases, they just built one. There are probably some examples like that here, and L.A. is rippled with them. Restaurant space that was not available to them before 2008 was suddenly very available."
Diners, too, are more educated about dish quality, as well as culinary traditions and trends.
"I think Mexican cuisine is an indicator of that," Goldstein said. "It has always been on the lower end of the culinary spectrum. However, there are wonderful things about how to be in that world, how to make Mexican food a tremendous culinary experience. People are more educated — they expect and they appreciate that experience."
COMPANY STORE
Sharky's currently has 27 locations, primarily in Southern California, but the chain plans to add two or more locations locally and expand as far east as New Mexico and north to Oregon and Idaho.
"We want to get to around 50 restaurants, and we will figure out what we are doing," Goldstein said. "You do not ever know — the restaurant business can be very fickle.
The new Charleston location will maintain about 40 employees.
"We probably will have hired 50," Goldstein said. "We will lose a couple during training. Because we hire smart, we train hard, we manage easy. It is absolutely integral that we put our team members through as much and as hard training as possible, so when the real thing comes up, it feels comfortable to them. It does not feel awkward."
The Las Vegas location is one of seven corporate-owned restaurants, but three more will be re-purchased from an Orange County, California ownership group within two weeks, according to Goldstein.
"One of the partners in the group passed away, and we saw it as an opportunity to grow the marketplace," he explained. "We treat all of our restaurants as franchises. All the restaurants pay royalties — we kind of worked together in that sense."
"We want to grow company restaurants. We would like to add between three and four a year. At that pace, we will be almost even with the franchise restaurants, if they were to remain stagnant.
"But our franchise restaurants are not stagnant. Our franchisee in Portland, for example, is getting ready to do restaurants two, three and four relatively soon. I think if we remain at about a 70-30 ratio (franchises to company stores), that would be a good number long term.
"But the good news is, when you have a good system — when the food is great and you have the ability to deliver great service on top of it — you can withstand most things. We will see. Every year, the operating environment gets more difficult. But we are highly focused on the opportunity to grow, and we are excited about that."