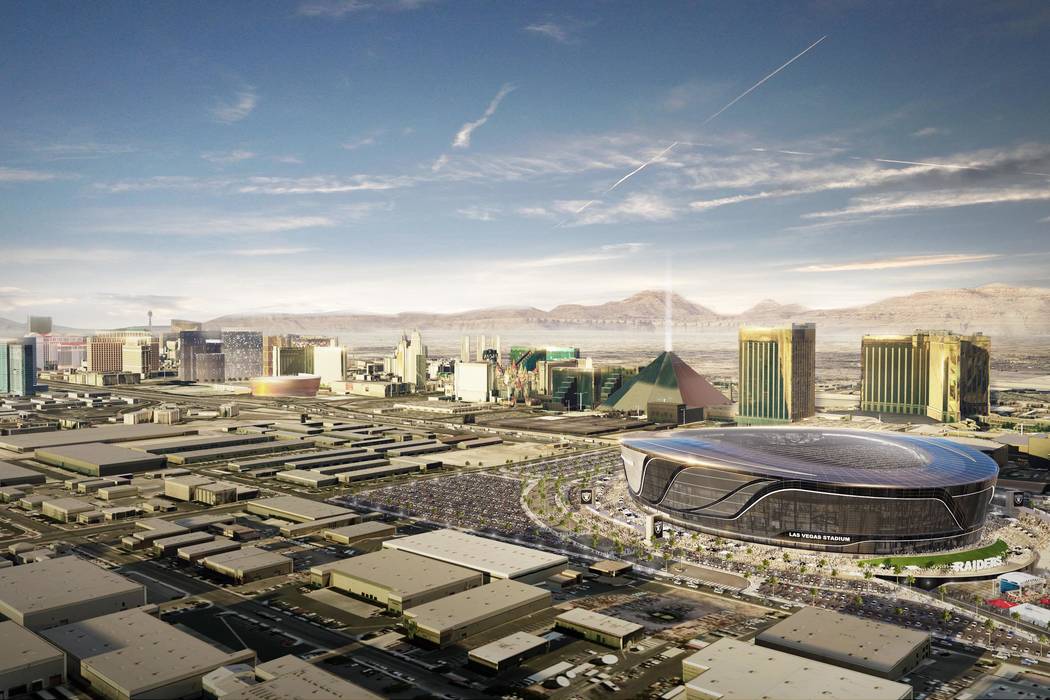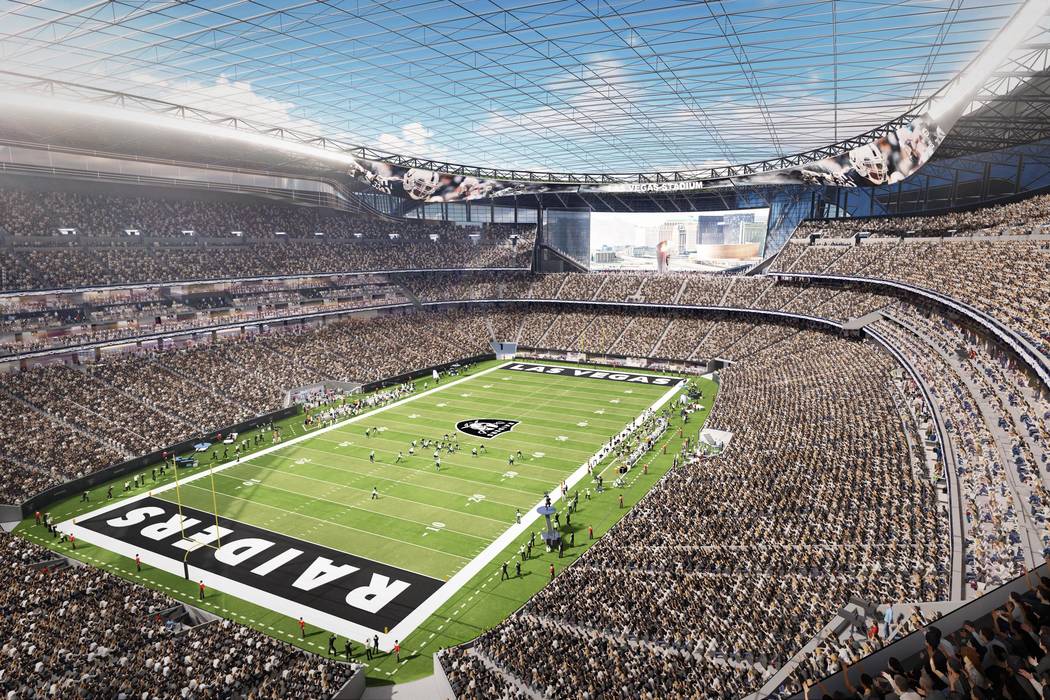 When it comes to Las Vegas, Japan and the rest of the world is paying attention, and it's not about gaming.
That's the message from Phil Klevorick, a Clark County Economic Development liaison, to members of the Southern Nevada CCIM chapter of commercial real estate professionals in talking about Southern Nevada building a $1.9 billion domed stadium for the Raiders.
Two weeks after the Nevada Legislature approved funding of a 65,000-seat domed stadium last fall with an increase in the room tax in Clark County to raise $750 million in public financing, a delegation of business developers from Tokyo came to Las Vegas, Klevorick said. Their mission was to learn how they can do a similar bond in Japan to generate income to offset the cost of infrastructure for the Summer Olympics in Tokyo in 2020 — the same summer the Raiders stadium is set to open. Hotel visitors are currently paying about $1 per room a night to fund the Nevada bonds.
"You wouldn't think Tokyo is watching Las Vegas to see how we do things in order to make large capital projects happen," Klevorick said. "We do have international recognition and global exposure in ways you don't think. Most people think it's about gaming, but this has nothing to do with gaming to create another franchise that diversifies the economy and grows a community that's not solely based on gaming. That's what the Tokyo group was looking at. The Olympics lose money every time they build something, and they're looking at ways to offset the costs to the local community by putting it on visitors, which is what we did."
The stadium project continues to progress as the Raiders have acquired 62 acres west of Mandalay Bay on the west side of I-15. The reported purchase price is $77.5 million. Observers expect construction to start by Thanksgiving to be ready for the 2020 pre-season Raider games.
"It's going to fill rooms, and it's going to create jobs," Klevorick said of the economic impact. "We're going to need more housekeepers and restaurant attendants and every aspect for those coming to visit, whether it's at McCarran (International Airport) or light rail to get to the stadium event."
Parking and getting people to the venue and other logistical issues will have to be resolved, because Uber won't do it, Klevorick said. In addition, there will be a fan experience around the facility, Klevorick said.
"Restaurants, bars, a hotel and a sports store makes some sense," Klevorick said. "My department is to look at how to plan for that viability in support of the stadium, and it's vital to get in front of that."
Mike Newcomb, executive director of the Thomas & Mack Center, Cox Pavilion and Sam Boyd Stadium and a member of the Stadium Authority Board, said other stadiums, like the University of Phoenix Stadium in Arizona, have a hotel, hockey arena and shopping center similar to Downtown Summerlin adjacent to them. Because of the lack of parking at the Raiders' stadium, hotels on the Strip will be able to host pre-game parties and shuttle people over to the game, he said.
John Saccenti, executive director of ESPN Events and president of the Las Vegas Bowl, said the stadium project opens up more opportunities to grow college football in Las Vegas, whether its marque matchups during the regular season or by hosting the college football championship game.
"Having a state-of-the-art stadium right there off the Las Vegas Strip is going to up tons of opportunities not only for the Las Vegas Bowl, but neutral site games and ultimately the dream would be to have the national championship game here in Las Vegas."
Newcomb said the stadium will help take UNLV football to another level. It could also lead to Las Vegas hosting a Final Four college basketball championship.
While the Dallas Cowboys have the best domed stadium in the nation, it can't compete with Las Vegas for what Southern Nevada will have outside it, down on the Strip, Newcomb said.
"Everybody wants to be on the Strip," Newcomb said. "The opportunities are going to be endless. Not only are you going to get the Raiders, but the stadium will fill those rooms and bring other events in there."
Klevorick said the stadium is a reflection of the attitude of Las Vegas, which doesn't live in the past but wants to grow and provide a better quality of life. It may be a sports stadium, but it's bigger than that, he said.
"It's going to create a bigger sense of community by bringing other opportunities like concerts and other sporting events and maybe conventions," Klevorick said. "The stadium can't be sustained totally on (10) Raider games a year plus X number of games of UNLV. We know it has to grow on other venues."
Saccenti said between the Raiders, UNLV football, bowl games, rugby and concerts, there would easily be as many as 45 events at the stadium, and having an air conditioned dome helps in the summertime. In contrast, the San Francisco 49ers stadium in Santa Clara is up to a 90-minute drive from San Francisco, and organizers don't want to hold events there because of that, he said.
Panelists said the phone will be ringing for booking agents with a stadium overlooking the Strip.
"There are events out there nobody is thinking about or talking about that are going to be big blockbusters," Saccenti said. "When we built Las Vegas Motor Speedway, did anyone predict there would be 250,000 a night out there for the EDC (Electric Daisy Carnival) generating more than $350 million of economic impact?"
Clark County departments, from building, public works and comprehensive planning to air quality, are already getting together, because the project approval process will have a shorter time frame than normal, said Klevorick, who added no corners would be cut in overseeing the permitting process. The county, however, won't have any control over some of the approval process, such as movement of stormwater — that falls under the jurisdiction of the U.S. Army Corps of Engineers.
John Guedry, president of Bank of Nevada and moderator of the event, told the audience that San Diego voters turned down a ballot measure to use the hotel tax to fund a football stadium for the Chargers. It helps that Las Vegas only had to raise the rate by less than 1 percent because of its large number of rooms, while it would have gone up 4 percent in San Diego, he said.
"It's a model that works in Las Vegas, but I'm not so sure it works in other markets," Guedry said.
The panelists said the stadium bonds won't pay for themselves in terms of tax dollars with the revenue going to the Raiders. It will benefit from the economic impact.
Nevada has a 9 percent live entertainment tax, which excludes the NFL; that will generate revenue for other events at the stadium, Saccenti said. Guedry said the stadium will generate more than $40 million in tax revenue that can fund schools and other expenses.