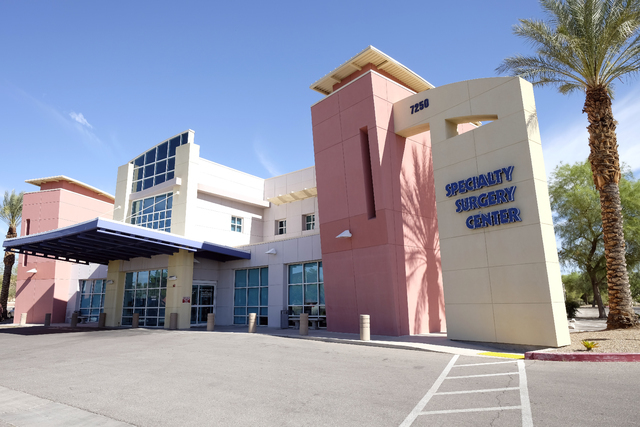 Two ambulatory surgery centers owned by HCA were rated as the most successful in Southern Nevada in 2015, the Center for Health Information Analysis shows.
The analysis shows Specialty Surgery Center had total charges of $183.3 million, followed by Las Vegas Surgery Center, with total charges of $125.9 million.
Specialty Surgery Center, which opened in 2002, reported 9,458 cases with an average charge of $19,390. Las Vegas Surgery Center, which opened in 1984, reported 6,650 cases with an average charge of $18,934.
Both handle gastroenterology, pain management, ear nose and throat, general surgery, gynecology, orthopedics, podiatry, urology and ophthalmology.
HCA, which also owns MountainView Hospital, Southern Hills Hospital, Sunrise Hospital &Medical Center and Sunrise Children's Hospital, is the dominant player in the surgical center marketplace that's otherwise dominated by doctors setting up their own surgery centers. HCA also has No. 4 ranked Sahara Surgery Center at $89.9 million and No. 6 Flamingo Surgery Center at $66.6 million.
"HCA gets it. They're aggressive business people," said Doug Geinzer, CEO of Las Vegas HEALS, an organization of more than 600 health care professionals. "Good for them for figuring it out. If you're operating at full capacity with your surgical suites, you can take lower-level acuity cases into a surgery center."
HCA released a statement saying that for more than 30 years, the Sunrise Health System has operated ambulatory surgery centers in conjunction with its physician partners in the Las Vegas valley acknowledged its role as "a clear leader" in providing outpatient surgical services.
"We believe our success in the market is directly correlated to our commitment to quality and we are grateful for the trust placed in us by the many patients and surgeons we have had the pleasure to serve," HCA said in the statement.
Nonhospital-owned Valley View Surgery Center ranks No. 3 and is the only other surgery center with charges above $100 million at $121.4 million.
Parkway Surgery Center rounds out the top five at $71.2 million. Dignity Health has partial ownership in Parkway Surgery Center, Horizon Surgery Center, and Durango Surgery Center as part of a joint venture with USPI.
Las Vegas has about 80 ambulatory surgery centers, and the number continues to grow. Southwest Medical Associates, which opened a surgery center on West Charleston Boulevard in 1982, opened Tenaya Surgery Center, its second surgery center in June. The center handles ophthalmology, gynecology and ear, nose and throat procedures.
The centers for same-day surgical procedures started to grow in number in Southern Nevada in the early 2000s, when doctors saw the opportunity and started investing in them, Geinzer said. They've grown in popularity because Medicare and commercial payers were willing to reimburse for payment outside of the hospital, he said.
"They've been around for a long time, but they just haven't been as popular as they are now until about 12 to 15 years ago," Geinzer said.
The centers do everything from cosmetic surgery to gallbladder removal, ophthalmology, weight loss, fixing torn ligaments and replacing hips and knees. Some heart procedures are even done at the surgery centers.
"The cases are getting more complex because the surgeon can control the environment and infection rates because they have a team there to know how they operate," Geinzer said.
More doctors see it as a way to own the process, and it's more profitable because they can control the costs and quality, Geinzer said. While it might cost $38,000 to do a knee replacement in a hospital, it could cost half of that in a surgery center.
"The doctors here are very entrepreneurial and not employed by the hospitals," Geinzer said. "If you go to other markets, the doctors work for the hospitals."
The ambulatory centers are a big part of medical tourism in Las Vegas. Patients who come from across the country or abroad are looking for the savings as well as quality care. Many either self-pay or work for companies that self-insure. Patients get the procedures done and recover in their hotel room in many cases.
"It's a tremendous asset for our region for health and wellness travel," Geinzer said.