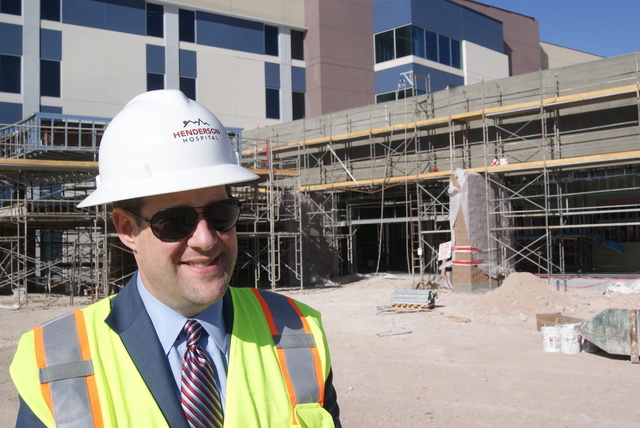 The new Henderson Hospital is ramping up its recruitment of local practices and physicians as it heads toward its opening later this year.
In all, the hospital will have between 700 and 800 employees when it is fully staffed.
"We're getting a lot of interest," said Sam Kaufman, Henderson Hospital CEO. "There's a lot of positive hype in the medical staff community about Henderson Hospital. They are looking at it as another opportunity."
Green Valley and Henderson doctors, he said, prefer the location because the hospital is in their community.
"The doctors in Green Valley and Henderson really do not like leaving Green Valley and Henderson," Kaufman said. "I think having a different hospital in the area gives them another choice to not leave the area, which is important to them."
The hospital — in Union Village at U.S. Highway 95 and Galleria Drive — will be a part of The Valley Health System. Valley Health has five acute care hospitals in Las Vegas.
Timing is a major consideration in signing up new practices for the hospital. It can take up to four months, depending on the size of the group, to get credentials for the hospital. The hospital is expected to open in October or November.
One group, Jacobs Medical Associates, has already signed to provide primary care. The group has "extensive ties to the community, is a very strong practice and is a block away from the hospital," Kaufman said.
The hospital, which is still under construction, already has a chief of staff and medical executive committee. Dr. Keith Brill, an OB-GYN from Women's Health Associates of Southern Nevada, is the hospital's chief of staff, a key player in staffing the rest of the providers.
"He is very much looking forward to the opportunity to be in Henderson," Kaufman said.
The specialists Henderson is looking to recruit start with obstetrics and gynecology, one of the hospital's major focuses, Kaufman said.
"We will have a very extensive reach into the OB community, delivering babies and gynecologic surgeries," he said. "In the Green Valley area, that is a big need. We were approached a long time ago by the OB community hoping we would do an OB hospital here."
Other specialty areas the hospital will recruit from include neurology, ear/nose/throat, orthopedics, gastrointestinal and urology.
The hospital will have a fully staffed emergency room, and staff is also being sought for that area.
Urgent care is a consideration, but a decision hasn't yet been made whether to offer that yet.
That could depend upon the draw of the emergency room. Urgent care might be a good fit to handle lesser health issues and to ensure that patients are seen in a timely fashion.
"We want to make sure the staff we hire is the highest caliber. Turnover and time in the emergency room will be very important to us," Kaufman said. "We've been working very closely with Henderson Fire to make sure we meet and exceed their needs."
The hospital will also offer services for seniors under a special health and wellness program for seniors 55 and older.
Staffing a hospital from the ground up is a gargantuan project.
For instance, hiring doesn't stop at physicians. There are midlevels and technicians, pharmacists and other ancillary operations.
In the works, the hospital soon will hire a chief financial officer, pharmacy director and human resource professionals, Kaufman said.
Tina Coker has already been hired as director of nursing.
"We haven't started yet to recruit support staff, but we have key directors now," Kaufman said.
Other hiring in the works includes cleaning and cafeteria staff, among other support employees. The hospital will not be contracting out those positions, said Gretchen Papez, Valley Health spokeswoman.
"Most of our services are going to be within the four walls," she said. "If we can provide the services ourselves, it makes it easier to control."
"Staffing," Kaufman said, "is always a concern because there is always a shortage of nurses."
He hopes the newness of the facility and its location will be a draw. Being part of Valley is also a benefit because those employees will have first shot at Henderson Hospital positions.
Construction of the hospital "is coming along nicely," Papez said. "It's beautiful and it's going to be very nice."
It will also feature special safety elements and is geared to patient comfort.
For instance, there will be less overhead paging because that can be disruptive to patients.
For infection prevention, silver ion-infused countertops will be used in patient care areas to help reduce bacteria; silver ion thread will be used for cubicle curtains; antimicrobial coating will be on all door handles. Even the lights will get into safety prevention with special indigo lighting built into the ceilings that will kill bacteria.
To keep the noise down, there will be high-end, superior acoustics in patient rooms and nursing stations that include areas for group discussions between physicians, case managers and pharmacists. The hospital has also installed special acoustic tile.
It all comes down to patient satisfaction, Kaufmann said.
"The key is what is going to be different from other hospitals in the community," Kaufman said. "We won't have an ID out of the chute except we are new, so it's going to have to be our staff and how we treat visitors and patients. Satisfaction is the utmost expectation of any consumer."
The Henderson Hospital, he said, "can start fresh and get to choose the directors and the staff and supervisors and employees who meet those characteristics that I would like to see identified with our hospital."