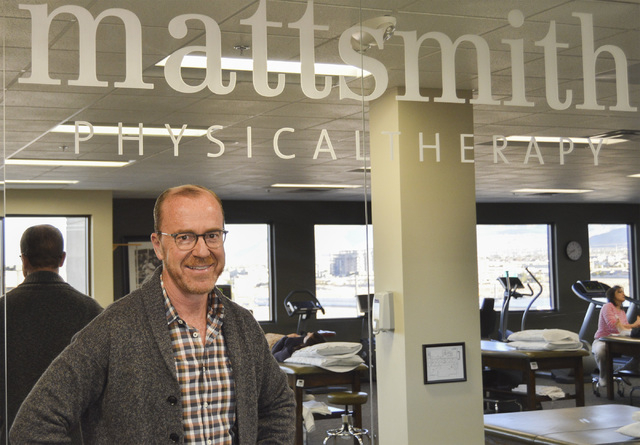 Matt Smith moved to Las Vegas in 1994 after graduating from the University of Utah with a degree in physical therapy.
"Vegas has been very kind to me and my family," he said, "and the business opportunities have been awesome"
He became a health care executive and served as president and general manager at the Sahara.
"I've had the fortune of taking care of many VIP's here in Las Vegas," he explained.
Las Vegas legend Bill Bennett, once CEO of Circus Circus, was a patient of Smith's. When Bennett purchased the Sahara, he was under Smith's care. Smith was leaving his employer due to an acquisition at that time and Bennett offered him a position at the hotel.
"Changing Lives" is the Mantra at Matt Smith's Physical Therapy, which is "locally owned and operated." The business funds scholarships for a dozen students.
Q: What areas of specialty care or unique treatment options do you offer at Matt Smith Physical Therapy?
A: We're an outpatient orthopedic physical therapy occupational hand therapy company. Our workers compensation occupational medicine product line is unique in the state in terms of the depth of services that we offer; from our functional restoration program.. our work readiness program, the job site analysis that we do, ergonomic analysis that we do for the various industries in Las Vegas. These programs in total are pretty unique to our organization.
We also have the most certified hand therapists in the city to offer hand therapy services to people that have fractures our tendon repairs, or trauma to the upper extremity. We do things such as dry needling technique which sounds like acupuncture and it is similar to but it's not acupuncture. We have an array of specialty programs for return to sports; including, knee/ankle programs, custom orthotic that we make, our exercise programs, our pilates programs for people with back problems, scoliosis, etc. are unique programs. Certainly there are other programs in the Valley; I think the array of services that we offer are unmatched in Las Vegas.
Q: Is there any new technology that you are looking forward to or that is extremely important?
A: I think on the technology side it's really being driven by the aging Baby Boomers. What we're seeing is rapid growth of total joint replacements; the hip, the knee, even shoulder, ankle, elbow. The Baby Boomers (are) not retiring and sitting home reading books and going for walks. We're continuing to climb mountains, ride bikes, swim, run, compete in triathlons. So we're seeing technology in the orthopedic sector evolve in terms of the prosthetics and from the therapeutic side techniques to get them back faster. The exercise equipment that we utilize and the evolution and implementation of things like pilates, relaxation techniques, even meditation, even some Eastern medicine techniques that we're bringing into our practice to help people get better.
Q: Are you seeing any advances in equipment?
A: Yes, there's stuff out on the market. For an example, Alter G. It's a treadmill and you literally step into this suite that we can fill with air. It will unload you on the treadmill just as a pool will give you buoyancy. I could unload you to where you only have 20 pounds on your legs while you're walking for example. Then we can increase that to 60, to 80, to full weight-bearing over a period of time.
Q: The career shift from physical therapy to running a hotel and back is unusual. Are there skills or business lessons that span both careers?
A: I worked as the regional VP for HeathSouth prior to the Sahara job. The business of health care and gaming have similarities. I have always classified my business approach to success in four different buckets: Finance, operations, marketing, and development. I approach the gaming business the same as health care in terms of my business strategy. Both businesses are about providing a customer experience and delivering in such a way to meet and exceed their expectations. One main difference; in health care we are in the giving business whereas gaming is in the taking business at the end of the day. Business strategies however are not dissimilar.
Q: Do you feel the Affordable Care Act had a positive impact?
A: Clark County has been pretty overwhelming, I think, for the insurance companies. Enrollments have grown probably a couple hundred thousand lives with Smart Choice and probably a 150,000 lives with Amerigroup. That's a ten-fold increase in people that are now accessing health care.
For us, in physical therapy, we like it. From an economic standpoint, they pay well; they pay on time. So the ACA has been good from a business standpoint. For us in Clark County, the ACA has been a boon to our business.