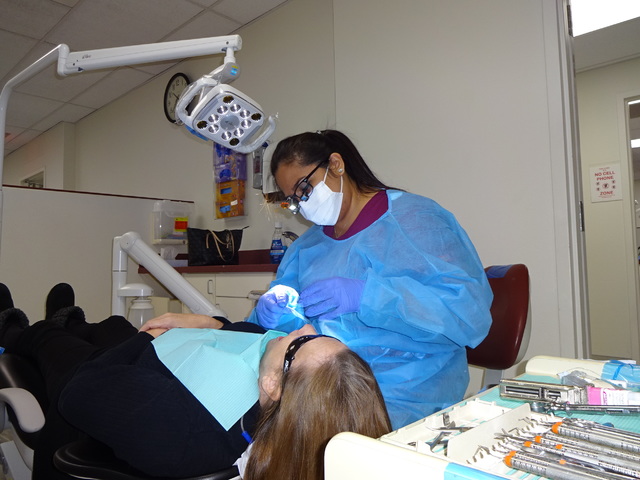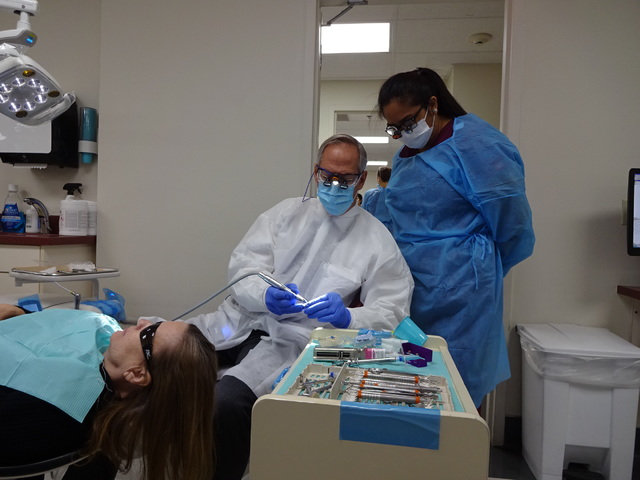 A recent American Dental Education Association study showed the average dental school student graduates with more than $247,000 in student debt. That figure has risen by nearly 40 percent since 2010.
Part of the reason for the dental student's high debt is that she must complete a four-year science degree before entering the four-year dental program. The student must also purchase several thousands dollars worth of special training aids, equipment and books.
With the cost of dental school so high, students are taking a very close look at which school they want to attend. And, the competition for acceptance is fierce. UNLV's School of Dental Medicine has more than 1,800 applicants that compete for one of the 75 to 80 student positions that are available each year, according to Dr. Philip Devore, DDS, the school's associate professor.
Kristen San Diego, who came to UNLV from her home in Hawaii, is a third-year student at the School of Dental Medicine.
"I chose UNLV because of the early hands-on clinical experience that UNLV offers."
In addition, after her first year at UNLV, San Diego was able to claim residency and lower her tuition from $89,987 to $54,677 per year, according to the school's tuition website, www.unlv.edu/dental/tuition. UNLV's Dental School tuitions are about 9.5 percent less than the average for all dental schools, according to StartClass.com, a website that tracks U.S. professional schools.
At UNLV, students begin working in the clinic environment during their second year, and by their third year are performing most of the technical procedures. Devore said most dental schools have students entering the clinic stage of their education in the later part of their third year or into their fourth year. In addition, UNLV does not break its program down into specialties, so the students gain experience on a wider variety of procedures.
This year, StartClass.com ranked UNLV School of Dental Medicine 48 out of the top 65 university schools, not including private schools. UNLV School of Dental Medicine is one of the newest on the list, having graduated its first class in 2006.
In December, the school will receive its latest piece of equipment — an inter oral scanner, which is priced at nearly $12,000. This is a sophisticated optical scanner that takes digital images and converts them to a CAD file that is read by different types of machines. One of the uses will be in conjunction with a milling machine that can build a customized crown for a patient's tooth. Another future use will be to connect the scanner to a 3-D printer that could build dental bridges and false teeth.
Devore moved from California, where he had a 17-year dental practice, to Las Vegas in 1997. He started a local private practice in 2002. He said he is well aware of the advancements made in modern dentistry. "I'm not doing the same thing that I did 35 years ago when I graduated from dental school; it's not the same. I have to stay current with all of the literature, materials and methods that we have today."
The school, at 1700 W. Charleston Blvd. in the UMC medical corridor, has 165 dental treatment rooms along with emergency care, oral pathology and oral surgery units. The clinic is open to the public and hosts more than 60,000 patient visits each year through its academic, community outreach and Faculty Dental Practice clinic, according to Kevin Dunegan, director of communications for the UNLV School of Dental Medicine, the university's School of Allied Health Services and its School of Nursing.
One of the unique things about the UNLV School of Dental Medicine is that because of the clinic program, the school is more than 55 percent self-sufficient based upon the fees paid by the patients and their insurance, according to Devore. The school charges a flat fee for services, which are not income-qualified.
According to Devore, the clinic is equipped to accept absolutely everybody that enters the doors, regardless of the severity of their dental problems.
"If a patient is not suitable for a student due to the complexity of their dental needs — too many crowns or bridges or a complex medical issue — they are referred to the General Practice Residency Program," he said.
In this program, graduate dentists come for additional training in general dentistry, orthodontics or pediatrics.
"If a case is extremely complicated, the patient is referred to the faculty practice, which encompasses all of the dental specialties."
The school has an operating room on campus and staff privileges at University Medical Center Hospital.
"What I really enjoy about practicing in this environment is that it allows me to offer what I think is the very best to our patients, both in the faculty practice and in the student clinic with the students," Devore said.
Because the School of Dental Medicine does not have an overhead that a private practice does, it is allowed to practice what Devore called "ideal dentistry." As such, the staff and students make recommendations to the patients that they consider to be ideal, then depending on the patient's needs and desires they will tailor the treatment.
When patients go to the clinic, they are put through a battery of preliminary examinations during the record-taking process before any work is performed. As a result, a complete mold of their teeth along with x-rays and photographs are available for the students to look at and analyze with their instructors. Based on their analysis, along with the instructor's examination, a course of treatment is decided and proposed to the patient.
"You can train most anyone to do the technical side," Devore said. "However, it is the critical-thinking skills that are crucial to becoming an effective dental practitioner, and that is what we try to teach."
"We try to give evidence-based criteria to all of our clinical decision makings. We don't do stuff just because we think it is a good idea. We recommend treatment based on the literature, the curriculum that we have and evidence-based standards that are well-documented," Devore said.
In addition to the technical and critical thinking, the dental school also has a unique two-semester practice administration course, which all students must pass in order to graduate. The course was developed by Devore in 2005 and is based on his prior years of experience as a consultant to dental practices around the world. In this course, Devore teaches the students how to manage an office, marketing, patient management and how to communicate with patients by explaining their dental needs and the procedures in layman terms.
"Creating value and urgency so that a patient does not put off something that in the future can cause bigger problems both medically and financially is the goal," Devore said.
San Diego, whose mother is a dentist with a successful practice in Hawaii, worked with her mother on the administrative side before entering dental school.
"After graduation, I would like to work with some other dentists to see how they do things before going back to Hawaii and working with my mother," she said.
Like San Diego, many of the graduating dentists are weighing their work options. Devore said the average income for a dentist just starting out is about $120,000 a year. The school debt might cause a graduate to take a job with a large dental corporation and a guaranteed salary rather than open an independent practice and incurring the risk associated with entrepreneurship. Regardless of their choice, finding employment should not be a problem. Currently, there is a shortage of 7,300 dentists in the United States, according to the American Dental Association.
Part of the dentist shortage can be solved by importing dentists from other countries. UNLV has a proposal to the Board of Regents to begin offering a foreign dentist curriculum where an accredited dentist from a foreign country can study for two years and graduate with a degree that will enable them to practice in the U.S.